What is It Works!?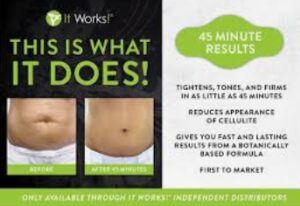 It Works! is a skincare, health and nutrition company that promotes its products using multi-level marketing methods (MLM).  There are many claims online about an It Works Pyramid Scheme with the focus on recruitment and not product sales.  In this It Works Review: Is It Works is a pyramid scheme, a scam or legit?
Mark Pentecost started the company in the year 2001, together with his wife, Cindy Pentecost.  Mark had no real prior experience.  He was a high school math teacher and basketball coach in Michigan.
The company mainly uses social media to promote its products.  Chances are, you've seen before & after photos on Facebook claiming someone can lose weight in just 45 minutes by applying a crazy body wrap around their belly.  You will also likely come across posts that claim this body wrap can and will, improve your appearance in less than an hour.
Distributors for It Works! are called Wrapreneurs.  The premium product is a body wrap and their distributors are self-employed affiliates, or contractors.
The company's headquarters are located in Florida, USA. However, other countries where It Works operates include Canada, Netherlands, Sweden, Denmark, Belgium, Germany, France, Spain, New Zealand, Ireland and in the United Kingdom.
It Works! at a Glance
Company: It Works!  – Florida, USA
Founded:  The company was founded in 2001 by Mark Pentecost.
Price to join: $99 startup up fee + $125 a month fee + product plan ($349-$1499)
Do I recommend? No! The focus is on recruitment, not products.
Is There a Better Opportunity to Make Money Online or from Home?


It Works Pyramid Scheme?
The main characteristic of a pyramid scheme is that participants mostly make their money by recruiting more members. There are different kinds of pyramid schemes.  It Works resembles a product-based pyramid scheme as opposed to a naked pyramid scheme.  In a naked pyramid scheme, no product is sold.
A product-based pyramid scheme is disguised as a legitimate direct sales opportunity. Here's how it works:
A distributor recruits salespeople who each pay $99 for a starter kit of products to sell.
The distributor gets a percentage of each starter kit that's sold.
The distributor also gets a percentage of each product that any of his recruits sell, including more starter kits.
The recruits are told that the fastest way to make money isn't by selling products, but by recruiting more people to buy starter kits.
The people at the top of the pyramid get commissions from everyone in their downline, the many levels of recruits below them on the pyramid.
It Works Review – Recruitment vs Product Sales
The problem with most product-based pyramid schemes is that the products themselves don't sell very well. The products are usually overpriced to cover the commissions upline in the pyramid.  So the quickest way to make money is to find more recruits. Eventually (and surprisingly quickly), the market becomes saturated. There are too many people trying to sell the same unattractive product and there's no one left to be recruited.  This is particularly true in smaller towns and regions.
It's mathematically impossible for everyone to make money in a pyramid scheme. For example, if each recruit needs to find 10 more people to recoup the cost of his or her initial investment, the eighth level of the pyramid would have to recruit a billion people to make back their money. And the next level would need 10 billion, which is more than the entire population of the Earth.
Is "It Works" a Scam?
Scam is a pretty strong word.  However, by their very nature, pyramid schemes don't work unless somebody loses. Those at the bottom of the pyramid are essentially defrauded by those on top. It's a mathematical fact that no matter how many people join a pyramid scheme, 88 percent of the members will be on the bottom level and will lose their money [source: Pyramid Scheme Alert]. Pyramid schemes are illegal because people don't lose their money due to normal market forces, but because the system requires them to lose so that a few at the top will win.
Studies show that in a naked pyramid scheme, 90.4 percent of people lose their money, while in product-based pyramid schemes, that number jumps to a shocking 99.88 percent
It Works Pyramid Scheme – Is It Legal?
Even though MLMs resemble illegal pyramid schemes, they can be legal as long as there is a product or service attached to them.  I honestly don't think that It Works! distributors are trying to scam their new recruits.  It's more likely that they themselves actually believe in the products and the opportunity.
Being legal does not make MLM ethical. All companies are in business with the goal of selling goods and services for a profit.  Network marketing companies are able to charge a higher price because they create a customer base of loyal members who believe that by consuming these products and recruiting others to do the same, they will become financially free.
What does it Cost to Join It Works!?
The cost to join It Works! as an independent distributor is $99 for a business starter kit, which includes a box of four wraps, marketing materials, business cards, and catalogs. Independent distributors also receive online training, access to a personal mentor, a free customized website for 30 days, and personal development coaching.
Because there is an upfront cost and Bonus Volume (BV) minimum of 80 for each month, independent distributors must have adequate time and money to begin earning commissions from It Works! BV 80 equates to approximately $112 in product purchases.
The Business Side of It Works – The It Works Compensation Plan
It Works presents a fairly complex system of rankings, commission percentage, and bonuses. The It Works Compensation Plan is structured on three Management Levels.  Above the three management levels are five additional Leadership Levels
After joining It Works as a Distributor, the first goal is to become commission qualified.  To do this, you need to sign up for a recurring 80 BV in auto-shipment and have at least 400 Personal Bonus Volume for the month.
It Works Management Levels
Executive – To qualify as an executive, you must be a Qualified Distributor and have a minimum of two qualified legs. (A qualified leg is one with at least 400 total Group Volume.)
Ruby – To qualify as Ruby, you must have three qualified legs  with at least one of those legs an Executive Leg. (An Executive Leg is a leg with an executive level distributor somewhere within that leg.)
Emerald – To qualify as Emerald, you must have four qualified legs with at least two of those four legs being Ruby Legs. (A Ruby Leg is a leg with a Ruby somewhere within the depth of the leg.)
To advance to Executive Level, you need to recruit two other Qualified Distributors.  To reach the Ruby level, you need to have three distributors under you, and for the Emerald level, there is the requirement for 4 distributors. But, recruitment alone doesn't get the job done. The recruiters in your group – beneath your level – have to perform and grow "legs" as well for you to advance. Only when your downline legs achieve (at least) the Executive level can you begin to earn in terms of commissions. The higher rank you achieve, the deeper your commission access becomes to the levels below you. Distributors at Emerald rank earn commissions 6-levels down.
In short, the It Works compensation plan is pretty complicated.  This is not unlike most of the other network marketing compensations plans out there. Typically, MLM compensation plans tend to be complex – they all seem to do it.  Maybe, in the confusion, new recruits are more likely to believe they can earn more than they actually can.  Maybe, it is to make the whole opportunity seem more enticing.  Meybe it is to simply hide an ugly truth.
How Much Are It Works! Distributors Actually Earning?
To find out how much distributors are earning, I looked at the It Works! Income Disclosure. The version I found shows how much commission was paid to It Works! distributors in 2018 (the 2019 disclosure is not yet available).
It takes a bit of calculation to make sense of the numbers. After some basic arithmetic, some disturbing discoveries become apparent:
Over 98% of It Works Distributors earned less than a full time income – In 2018, less than 2% of It Works! Distributors earned above minimum wage from this opportunity.
Average annual income for all It Works distributors was $2,076 – Even though some distributors are earning Diamond bonuses, on Average Distributors made less than $40 per week from It Works!
Expenses are not included – It's important to remember that there's a difference between income and profit. In order to earn these commissions, distributors had to spend money on product. They also would have to spend time and money promoting and growing their business. From the Income Disclosure, it is safe to conclude that after expenses most distributors lost money with It Works! in 2018.
It Works Products
It Works Review – Body Wraps
Body wraps have been growing in popularity, even though the results are only temporary. Of course, there are certain situations and scenarios where you want to look your absolute best. If you are willing to spend the extra cash for a temporary result, go for it.  Wraps can be used as a quick fix to make your body look its best.  Most wraps temporarily improve the appearance of skin in the applied area by dehydration.  Less water makes the skin appear tighter.  The results are limited to about 24-48 hours. It Works suggests in their application instructions that you do a wrap every 2-3 days.
There are some crazy ingredients in the wraps, and It Works claims they are all natural.  The ingredients that are actively doing something to your body are alcohol, green tea, and the oils. The alcohol and green tea can help to dehydrate the skin slightly to give it a more taut appearance. The oil helps to hide the negative effects of dehydration – so your skin don't look like a dried-up, shriveled prune.
Also, there are plenty of cheaper products that offer the same results – at a fraction of the price.  Check out Amazon – and search "body wraps".
It Works Review – Fat Fighter with Carb Inhibitor
The Fat Fighter contains cactus which is naturally high in fiber.  High fiber diets can help you lose weight. They help you feel full so you can eat less.  It's a bit surprising that It Works instructs you to take this supplement after you've eaten a cheat meal. If you take it before it might actually help you resist cheating and not eating the high fat food in the first place.
It Works Review – Greens on the Go
Greens on the Go are interesting. They try to push this as a more delicious way of eating your daily vegetables.  The ingredients on the label are pretty complicated – are you sure they are "all natural"?  From the label, it's difficult to tell what you're actually putting into your body. My advice, skip the expense and uncertainty.  Eat the real stuff, instead.  Your body absorbs nutrients best from natural sources, not products that are overly processed.
It Works Review – Thermofit
Thermofit review claims to boost metabolism and help burn fat. Additional claims include:
Fat Loss
Antioxidant
Energy Boosting
Appetite Suppression
Focus Enhancement
Ultimate Thermofit is made of mainly two active ingredients Capsimax, a red hot pepper, and acai berry. It is also includes green tea leaf, bitter melon, raspberry ketones, dandelion root and gymnema leaf extract.
What exactly does each ingredient do? Acai berry is known as an anti-oxidant that helps protect cells from free radicals. As for its effects in weight management, it isn't considered a magic ingredient that magically gets rid of fats. Capsimax is another main ingredient made from concentrated capsicum. It has been used for different purposes such as stomach pain and diarrhea.
It Works' products are not cheap. Unless a product is clinically proven to work and has proven science behind it's ingredients, I remain skeptical.
It Works Review – Hair, Skin, and Nails
There's no shortage of products on the market that claim to thicken hair, remove wrinkles, and fix dry, brittle nails. Among these are a slew of dietary supplements, some topping $100.
It Works makes other health and wellness products in addition to It Works Hair Skin Nails. The company claims that taking this supplement regularly, in combination with other It Works products like their essential oils and skin cleansers, will result in more youthful skin, shinier hair and stronger nails.
But can a pill restore your hair, skin, and nails? Here's what the research shows.  According to Consumer Reports- The Truth About Hair, Skin, and Nail Supplements …experts say there's no good evidence that supplements can make a difference.
It Works Reviews 
I have included both positive and negative It Works reviews in this section.  If you are wondering why two negative and only one positive, it is because that is the typical ratio I found in my research – two negative to every positive opinion.
It Works Reviews – Positive, Five Stars*****
I started using HSN on my heavily bleached hair and I saw huge results within 4 weeks! Also, I used a wrap and they're not 'heat wraps' or 'water loss wraps' they actually use lipolysis to tighten the skin and they worked brilliantly for me…I know two people who bought them from people and they weren't told to drink plenty of water so they had hardly no results! Water is key for the wrap to work efficiently! I joined the business and ran it for a year under a crap leader who had me cold messaging and tried persuading me to annoy my relatives to get sales!
After a few months break I decided to join again because I love the products (I always did as a customer before)! I joined under someone who knew all about facebooks algorithm and how to maximise sales without pestering people and no cold messaging!!! I actually retired from my full time job after around 4/5 months in the company, the company is always bringing out new products and new ways to earn money! There's currently over 8 ways to earn money with It Works! Whitney-Rose, April 2018, Online Review
It Works Reviews – Negative, One Star* 
DON'T ORDER THIS PRODUCT!!! I have asked my consultant that I ordered this product from to cancel my auto shipment…………………4 TIMES!!! I know her personally and know she contacted customer service. I received a notification that ANOTHER charge has been added to my credit card. This is so ridiculous and unprofessional of this company!! I have been charged $40.95 FOUR times since I cancelled!!!! I'm not one to give reviews or rate companies, but this one is just too wrong not to. I will tell my experience to anyone and everyone on this one. This is not how you treat customers! DOESN'T EVEN DESERVE 1 STAR BUT YOU CANNOT SUBMIT REVIEW WITHOUT GIVING A STAR RATING……………………………TOTALLY DISGUSTED!!! Sheena L, October 2019, Source: Better Business Bureau
It Works Reviews – Negative, One Star* 
I called on August 5, 2019 to cancel my order with It Works and had to pay a $50 membership fee because I was cancelling before the 3 month period was over. Also, I wanted to return a product hat was making me sick. I took the product for a few days because I wasn't sure it was the product making me sick or not. After confirming it was the product, I called and the customer service person told me I could return it. The product was around $48. I called today, September 19, 2019, and was told they did not issue me a refund because the product was open.
They have notes from my call on 8/5 where I specifically asked if I could return the product opened and was told yes and they sent me a label. So now I'm out almost $100 and there is nothing they will do to help, they wouldn't even let me speak with a manager. If nothing else, it would be nice to get the membership fee back, because why would I want to continue to buy products from a company that made me sick? Toni L, September 2019, Source: Better Business Bureau
It Works Review – Conclusion
I believe the fundamental problem is with the MLM network marketing business model.  It's not designed to help people make money or gain financial freedom.  The system is designed to promote and sell products.  MLM is shown to be profitable for the companies which produce the products, but not for the members who join the business opportunity.
MLM is a way for companies to sell products without employing a sales force and without having to spend money on traditional advertising and promotions.  Instead they build a network of loyal believers who are willing to pay unusually high prices for the added hopes and dreams of financial freedom.
The company might be turning a profit, but that doesn't mean that you will be profitable from the opportunity. Just because a small amount of distributors are making a lot of money, doesn't mean that the system works for everyone.
Low Earning Potential for It Works Distributors
It Works! relies heavily on social media and word-of-mouth marketing. The average It Works! consultant earns less than $40 each week. In addition, distributors must maintain a monthly minimum of 80 BV (bonus volume) auto ship in order to be eligible to receive commissions. This equates to approximately $112 in product purchases.
Being an It Works! independent distributor looks appealing as a way to help bring in some extra cash.  But, it can be challenging to make it as a full-time job. Less than 2% of the Distributors are able to achieve a full time income.
Lack of Scientific Evidence to Back Results
It Works provides no scientific evidence to back up the health benefit claims made about its products. Further, the Food and Drug Administration warns consumers that using body wraps for contouring have no long term effects and the practice can be dangerous.
For example, users are instructed to drink half of their body weight in ounces of water for three days after wrap use in order to achieve results. This would require  a 200-pound person to drink 100 ounces of water each day for three days.  That's a lot of water.
Should You Join It Works?
The only reason to join any MLM, is if you are already buying their products, and are happy enough to recommend them to others. The only way to make Money with It Works, is to sell a lot of products – and/or recruit others to do the same. If you're not looking for a sales job, then this isn't for you.  The products are expensive – even at the loyal customer discount rate.
However, if you are considering It Works as a business opporutnity, maybe you should look at other options. Before you join, perhaps spend some time getting familiar with other opportunities to earn a side income.