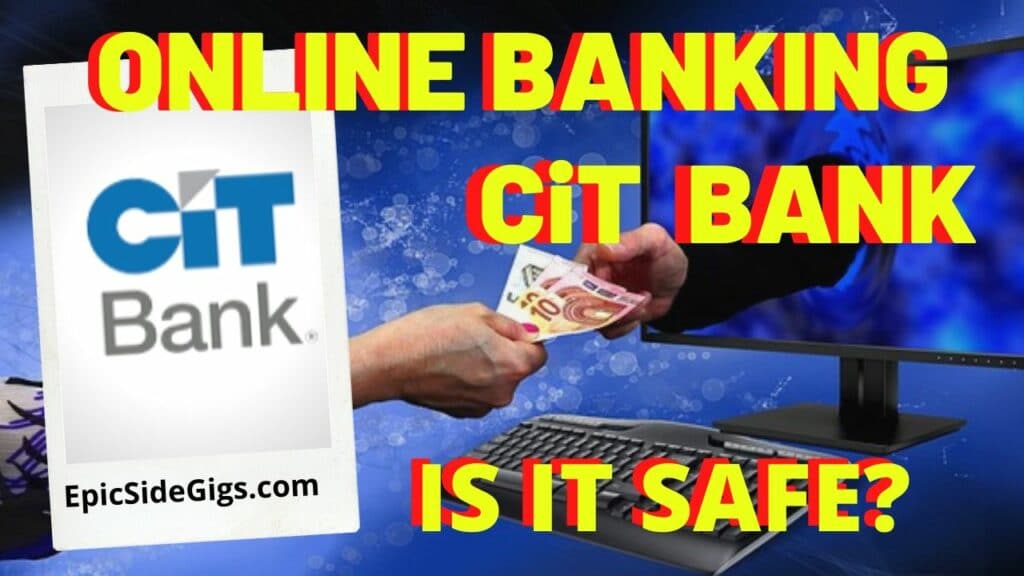 Are you tired of paying high fees for banking services?  Then CIT Bank could be your go-to online banking solution. They don't have local branches you can walk into.  But they do offer easy-to-open accounts with low opening deposit requirements. CIT Bank is great for people who like the convenience of using a phone or computer to make banking transactions. Customers can access their accounts from almost anywhere 24 hours a day.  CIT Bank, N.A. is a subsidiary of financial holding company CIT Group, Inc. (NYSE: CIT). The online bank focuses on delivering some of the highest paying interest rates available. CIT Bank reviews rank the high-yield online savings accounts consistently among the best savings accounts in the industry.
CIT Bank is not related to Citibank. Rather, CIT stands for "Commercial Investment Trust".  The online bank has its roots in a company founded in 1908.
Cit Bank Reviews – Accounts Offered
eChecking Accounts
CIT customers can access checking accounts 24 hours a day online or through the mobile app. Checking accounts can be opened with a $100 minimum opening deposit.  CIT Bank added eChecking accounts to its product menu in late 2019. With the addition of checking, CIT customers access to a full array of banking products.   Interest is earned on CIT's checking accounts. Balances of $25,000 or more earn 0.25% APY and balances under $25,000 earn 0.10% APY.
You'll receive a complimentary debit card with EMV chip technology when you open a new checking account. CIT does not charge ATM fees and will reimburse customers for up to $15 in other banks' ATM fees per month. The downside is that CIT do not have their own ATM network.  They also do not provide paper checks.  You are out of luck if you've grown accustomed to using paper checks.  CIT eChecking accounts don't allow them as a form of payment.  Check payments are made entirely via online transfers or mobile app.
It's a bit unusual to earn interest on a standard checking account.  The fact that CIT pays 0.10% APY on balances under $25,000 is a bonus. The APY goes to 0.25% for balances ove $25,000. Some other online checking accounts pay more, but they often require a series of spending and deposit qualifications to earn the higher rate. 
Cit Bank eChecking Summary:
CiT bank does not offer its own free ATM network.  Many other online banks partner with networks that offer tens of thousands of free ATMs nationwide.
They do reimburse up to $15/month if you use other ATMs that charge a fee.  But, if you withdraw cash more than a few times a month, it could become expensive.
There is no monthly fee on CIT's eChecking. Other banks require you to keep a certain minimum balance or complete qualifying activities to avoid monthly surcharges.
CIT requires a minimum of $100 to open eChecking. Many of its competitors let you open a checking account for free.
Customers can access checking accounts 24 hours a day online or through the mobile app.
Cit Bank Savings Accounts
CIT Bank has two savings accounts available to customers: Premier High Yield Savings and Savings Builder.  Both accounts are perfect for building an emergency fund or other savings goal. You can easily set up a separate account for a vacation fund or saving for a new car.
Premier High Yield Savings is CIT's entry-level savings account. An account can be opened for as little as $100 and currently earns 1.55% APY. There are no fees to open or maintain a High Yield Savings account.
Savings Builder accounts earn a higher rate than the high-yield savings account. This is because it has specific earning requirements, which are either:
Maintain a balance of $25,000 or more, OR
Make at least one monthly deposit of $100 or more
With a Savings Builder account, customers can earn up to 1.70% APY. Accounts not meeting the requirements above will still earn 1.15% APY. If you're not planning on hitting the requirements, it makes more sense to open a High Yield Savings Account.  Savings Builder accounts don't have any opening or maintenance fees. They only require a $100 minimum opening deposit. Maintaining a balance of $25,000 may not be realistic for everyone, but having the option of $100 monthly deposits makes earning high rates more than possible for Savings Builder account holders.
The Savings Builder account pays 1.70% APY, but to get it, you'll have to maintain a minimum balance of $25,000 or commit to depositing at least $100 each month. Otherwise, you'll earn 1.15% after the first month.  There is also a Premier High Yield Savings account, which earns 1.55% APY, but does not have monthly deposit conditions.  Both accounts require $100 to open. To compare, you can open some competitors' online savings offerings without a deposit, others require $5,000 to earn interest.
Savings Builder Account Sign up Bonus
When you open a CIT Bank Savings Builder High Yield Savings Account using one of their spring promo codes, CIT Bank is offering a $150 cash bonus with a $25,000 deposit, and a $300 cash bonus with a $50,000 deposit. This offer is open to both current and new customers of CIT Bank.  To qualify for the applicable bonus, you must fund your account, during the 15 calendar-day Funding Period, with New Money, defined as "funds from an external financial institution and not currently in your CIT Bank account(s)." You will be eligible to receive the bonus after the Funding Period plus a Review Period. The Review Period equals 90 calendar days for new customers and 30 calendar days for existing customers.
Cit Bank Money Market
Money market accounts are a type of savings account.  CIT's Money Market account currently earns 1.75% APY. There are no balance requirements, so you'll earn this rate no matter how much you deposit each month. There is a $100 minimum opening deposit and no monthly service fees.  Bill pay options aren't available yet from CIT Money Market accounts, but the website says this feature is coming soon.  Like other savings accounts, money market accounts are subject to monthly transaction limitations. There's a limit of six transactions per statement cycle. Money market accounts are another great place to build an emergency fund.
1.75% APY

$100 to open, but no other minimum balance requirements.  Other money market accounts often demand $2,500 or more to earn high rates.

No monthly fees

Limit of 6 transactions per statement cycle
Customers have four options with CD accounts from CIT Bank.
Term CDs. Term CDs have a $1,000 minimum opening deposit. Terms range from six  to 18 months and earn anywhere from 0.72% APY to 1.72% APY. A term rate CD allows you to lock in a rate for a specific period of time. You'll earn more interest with longer term lengths, which makes sense. Term CDs have no opening or maintenance fees.
No-Penalty CDs. These 11-month CDs allow you to access funds before maturity without a penalty. The fear when putting money into an account like a CD is not being able to access it if there's an emergency. CIT's No-Penalty CDs eliminate that fear while still offering a decent earning rate.  They have no opening or maintenance fees and earn 1.65% APY. No-Penalty CDs require a $1,000 minimum opening deposit. You can access your funds, if needed, so long as it's seven days after they've been received.
Jumbo CDs. Jumbo CDs require a $100,000 minimum opening deposit, so they aren't going to be an option for most customers. There are no account opening or maintenance fees. Also, Jumbo CDs have longer terms, ranging from two to five years in length. Jumbo CDs come with locked-in rates between 1.45% APY and 1.75% APY, depending on term length.
RampUp CDs. RampUp and RampUp Plus CDs aren't currently available for new accounts. With RampUp CDs, customers can raise their rate one time during the CD's terms if CIT Bank raises rates on these CDs.  Customers who wish to see how much interest they can earn with a CD account can use CIT's Certificate of Deposit calculator.
CD Summary
CIT Bank's Term CDs range from six months to five years. The bank also has a no-penalty 11-month CD, which has no early withdrawal penalty. There is a $1,000 minimum deposit. The amount is typical for national banks, but some online banks and credit unions have lower minimums.  In addition, rates are not top-of-the-line. Generally, you earn a better rate on your CD the longer you put your money away, but it's the opposite with CIT.  The bank saves its more competitive CD rates for shorter terms. A five-year CD pays 1.70% APY, which is better than what you'd get at many national banks, but other online banks pay more.  Source: nerdwallet.com
Cit Bank Access on the Go
Since CIT is strictly an online bank, access to any CIT accounts is handled either online through the CIT website or CIT's mobile app. Customers have access to accounts 24 hours a day.  With many of CIT's accounts, customers have access to mobile check deposit. With eChecking accounts, you can also make transfers, pay bills, and make purchases through services like Zelle, Bill Pay, Samsung Pay and Apple Pay.  The CIT mobile app is available on Android and iOS. If you have any CIT accounts, downloading the app will make life much easier. Customers can also sign up for text banking, which allows you to check account balances and transaction history.
Cit Bank Review Overall
Banking experience 
CIT Bank has an easy-to-navigate website that clearly shows rates, contact information and instructions on how to open an account. The customer service center is open and reachable by phone from 8 a.m. to 9 p.m. Eastern Time on weekdays, along with shorter weekend hours. In addition, CIT's banking apps earn a 4.6 star rating on iOS and a 4.2 star rating for Android.
As an online bank, however, there are no branches to visit, so there's no way to do your banking in person. CIT Bank has a Twitter account, but no customer support is evident. And there's no live chat on the site or apps. Consumers can fund and withdraw money from accounts by electronic transfer with another bank account, wire or mail. And ATMs are an option for withdrawals.nw
Overdraft fees
If you overspend with a CIT eChecking account, you can easily transfer money from your CIT savings account to cover the shortfall — at no charge.  Otherwise, CIT charges $30 per overdraft, up to 4 times a day — so if you don't have your savings account linked when you go over your balance, you could run up $120 per day in charges.nw
Pros
Competitive rates on all accounts
No monthly fees
Mobile and online access 24/7
Mobile check deposit capabilities
Small minimum deposit requirements
All accounts except High Yield Savings can be custodial accounts
FDIC Insured
Cons
No physical locations – entirely online
Checkbooks for eChecking accounts – not offered
IRAs are not offered
Auto loans – not offered
Credit cards – not available
How CIT Bank Stacks Up
If you're looking for an online bank account with high earning potential, CIT Bank is a great option. The combination of competitive rates and low minimum opening deposits makes CIT an attractive option for online banking.  If having access to live help at a local bank branch is desired, CIT Bank isn't the right choice for you. Sometimes banking in person provides a better experience than sending messages or waiting on the phone for customer service help. However, not having brick-and-mortar locations allows CIT to save money on overhead costs, which is how they can offer the high rates that they do.
The return on their high-yield savings accounts and the recent addition of a checking account option will help CIT compete with other top online banks. CIT's long term CD rates aren't as competitive as their other account options. You may be able to find CDs with a higher return by shopping online.  Overall, CIT Bank is a great alternative to traditional banking. Their rates are competitive enough while offering flexibility and several solutions to fit most people's banking needs.
CIT Bank Customer Reviews
Cit Bank Reviews – Five Star *****  They Came A Long Way…
In the beginning CIT bank was just ok. Terrible customer service, if any. Needed to jump through a ton of hoops just to set-up an account. Now, 2 years later CIT bank has turned itself around. Great customer service and any withdrawals is in my bank within 1-2 business days. As they say, you've got to crack a few eggs to make an omelette.
Cit Bank Reviews – Four Star **** Mobile App Unrefined & Basic…
I like this bank in terms of their high yields and long term benefits. If you are poor and cannot afford to dump large sum of money into savings this bank is NOT for you. This bank (along with others like it) is structured for people with money who want to invest for larger gain. The more money you invest in them the more return you will get back. I like this bank with exception of their mobile app. The app is so simple with no sophistication what so ever. Platform is so plain even my 2 year old daughter can maneuver around it. All I'm saying is, CIT is a highly reputable institution, I just want their mobile app to step up to the plate and offer some form of sophistication (fingerprint login, quality interface with modernness). Ally bank's mobile app make CIT look old and inferior.
Cit Bank Reviews – Three Star *** Rate Of Savings Builder Keeps Dropping…
I was so happy to sign up for the savings builder when it was 2.45%, but it dropped to 2.3 and now again to 2.27, so there are too many other better options out there for me to keep my money in this account. There are no issues with CIT bank at all overall… and found the sign up easy and clear. I wish they could have kept a better interest rate, but I see many banks dropping them over the last month.
Cit Bank Reviews – Two Star ** Tough Times Getting Your Money Out…
If you get a CD, there's no simple, automatic or reasonably timely way to get your money out of the clutches of CIT Bank at maturity. There's no online option to schedule the transaction either in advance or at maturity. And when you call, you have to first transfer the funds to a non-CD internal account – which takes 1-3 business days! – and then transfer out – another 1-3 business days. Meaning your money is tied up 2-6 business days AFTER it matures. No other repository that I've worked with, online or Brick&mortar, works this way. Unacceptable for my purposes and suggests to me that perhaps this institution is more of a commercial banking operation than a consumer bank. Rates are B+/A-, but that matters little when you can't get your money out when you need it!
Frequently Asked Questions
Does CIT Bank offer home loans?  Yes, CIT offers fixed-rate mortgages. Loan terms range from 10 to 30 years. They also provide relationship pricing to customers with a Savings Builder account. You can get $525 cash back after closing on your new CIT home loan.  Savings Builder account holders can also receive the following mortgage rate reductions:
0.10% with 10% of the loan amount in new deposits
0.20% with 25% of the loan amount in new deposits
Is CIT Bank FDIC insured?
  Yes, CIT Bank is 
FDIC insured
 (FDIC# 58978). The federal government protects your money up to $250,000 per depositor, per ownership category, in the event of a bank failure.
Is CIT Bank safe?  According to the website and CIT Bank reviews, security is a top priority. Online accounts are protected through antivirus protection, SSL encryption, account monitoring, firewalls and other security measures.  CIT provides support in circumstances of fraud or identity theft. Their fraud prevention department will work with you to handle any issues that may occur.
CIT Bank Reviews – The Bottom Line
CIT Bank offers competitive interest rates with relatively low opening requirements. It is a good place for savings if you can deal with some inconveniences, like not having physical branches or ATMs for withdrawal.  CIT Bank is an online bank with a notable money market savings account, checking account, certificates of deposit and high-yield savings options. You won't pay monthly maintenance fees with CIT, and many of their interest rates are competitive. But, keep in mind that there's no free ATM network, which is unusual among online banks with checking accounts.
Pros
No monthly fees for checking and savings accounts.
Great rates on CIT's money market and high-yield savings accounts — and checking pays a little interest, too.
Reasonable minimum deposits for money market accounts and savings.
Cons
No free ATM network.
High minimum deposit for checking.
Average rates on most CDs.