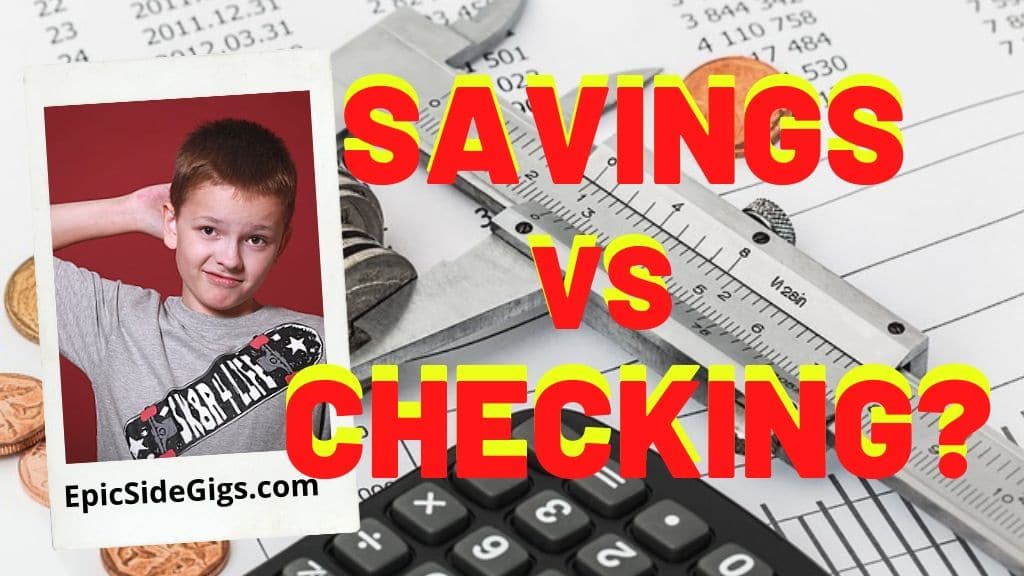 The Difference Between Checking and Savings Account Features – How to Choose
Checking and savings accounts are two of the most common bank account options.  However, there is a difference between checking and savings account features.  They each have different benefits to help you with all your financial goals. Checking accounts are designed for frequent transactions.  They are supposed to make depositing your paycheck and paying bills easy.  Savings accounts are intended to provide a place to store your funds for a rainy day.  They are designed to help you keep your cash safe – to build and grow your funds.
Checking accounts are best for meeting your routine spending needs. Savings accounts have higher interest rates, so they're best for letting your cash grow.
Checking vs. savings accounts 
The difference between checking and savings account features ultimately comes down to how much access you get to your money.
Checking accounts are better for frequent transactions – everyday purchases, bills and ATM withdrawals. They typically earn no interest to very little.
Savings accounts are better for storing money and earning interest.  Because of that, you have a monthly limit on what you can withdraw.
Checking Account – Overview
Traditional checking accounts are transactional in nature. Banks expect account holders to frequently take out money from these accounts.  Therefore, they put few restrictions on the timing or amount of those transactions.  For convenience, checking accounts typically come with the ability to make payments in many ways.  These include a checkbook, debit card, mobile apps and payment services such as Zelle.  You can conveniently send money to yourself or to other people, even if they bank elsewhere.
Checking accounts usually carry fees
With a traditional checking account, there is usually a long list of services or circumstances involving extra charges.  For example, not carrying a high enough balance, using another bank's ATM or for covering an overdraft.  Often, there are ways to avoid or reduce these fees and charges. For instance, a bank may have an account that reimburses foreign ATM fees that occur out of its network.  Or,  you may be able to waive the monthly maintenance fee if you have a qualifying direct deposit every month.
Banks attach fees to checking accounts because they can't count on your money staying around very long.  They must hold a greater amount of your money in reserve than they would for a savings account, and they can't lend it out. Instead, they make money on checking accounts through fees, including earning money when you use your debit card for a purchase.
Low to No Interest payments
Most traditional checking accounts don't pay any interest to account holders.  Often, it doesn't matter how much is in the account. But you can find checking accounts that pay interest if you shop around. Generally, they won't pay more interest than savings account and money market accounts.
The benefit: Checking accounts,  which offer debit cards and checks, are made for spending.
The downside: They tend to pay low or no interest, so you want to stash your reserves in a savings account.
The best checking accounts tend to have no monthly fees (or easy ways to waive them) and free access to nationwide ATM networks. Some even have sign-up bonuses. (Source: nerdwallet.com)
Checking Accounts – How They Work
A checking account is designed for frequent transactions.  You can send and receive money in a variety of ways.
Automatic electronic payments: If you pay regular bills, you can have funds deducted from your checking account automatically each month, eliminating the need to manually pay bills. For example, you can set up automatic mobile phone bills, mortgage payments, and insurance premiums by providing your checking account details to anybody you want to pay.
Debit card payments: A debit card allows you to spend from your checking account balance easily. You can swipe the card for in-person purchases or enter your card information for online payments.
Online bill pay with your bank: In addition to having billers deduct money from checking, you can send payments from your checking account on demand. Log in to your account and set up a payment, and your bank will mail a check or send the funds electronically.
ATM withdrawals: Your debit card also works at ATMs for cash withdrawals (and even deposits in some cases).
Paper checks: Although they're not as popular as they used to be, checks can still be an inexpensive and easy payment option.
Checking Accounts with Interest 
While traditional checking accounts don't pay interest on your account balance, there are places that do, if you shop around.  Those accounts may be appealing if you keep a significant amount of money in checking. To find interest-bearing checking, shop around for:
Online banks that pay interest on checking balances: For example, Alliant Credit Union's High-Rate Checking account pays a modest amount of interest.
Local banks and credit unions with "rewards" checking accounts: Be aware that you may need to meet strict criteria to earn a meaningful amount. For example, you may need to use your debit card 12 times per month or satisfy other requirements.
For most people, checking accounts aren't a significant source of interest earnings. If you keep a relatively small amount in checking (or if interest rates are low), you may be better off focusing on free checking accounts that don't drain your account balance. Calculate how much you'll actually earn before you get too excited about interest checking. (Source: thebalance.com)
Checking Account Fees 
Checking accounts are notorious for charging fees.  There are ways to bank without paying monthly charges.  But, don't think you can dodge those fees with free checking accounts.  There are banks and credit unions that advertise checking accounts without monthly maintenance fees.  Nevertheless, there are charges and fees for a number of services.  For example, even FREE checking accounts can charge a variety of fees:
Monthly maintenance charges: Flat-dollar fees that come out of your balance every month. It's hard to imagine a situation where it makes sense to pay those fees.  Maintenance fees usually range from $5 to $12, but can go higher. There are ways to get the charge waived, though. They include:

Making a certain number of transactions on a debit card linked to the account
Meeting a minimum average balance requirement
Setting up at least one recurring direct deposit into the account

Overdraft charges: Transaction fees for spending more than you have in your account. The bank might "lend" you money or allow payments to go through even when your account is empty. You need to repay those amounts, and you'll typically pay additional overdraft charges.  $35 per incident is common and it is generally not waivable.
Insufficient funds fees: Similar to overdraft charges, but those might hit your account even when the bank doesn't cover payments for you. If you try to spend more than you have, an insufficient funds fee may apply.
ATM fees — Banks often charge $2 to $3 for drawing checking account funds from an ATM out of their network. Unaware checking account holders could get the double whammy from these charges.  ATM operators often levy their own fees for cards outside their own networks. Competitive checking accounts may waive some, or even all, of these fees under varying circumstances. This is fairly common with online-only accounts.
Minimum balance charge — Usually around $10 to $12. Avoidable if sufficient funds are maintained in the account. Minimum balance requirements are sometimes used instead as monthly maintenance fee waivers.
Foreign transaction fee — 3% of transactions occurring outside the U.S. seems to be the benchmark.  With certain banks this charge includes not only purchases made directly abroad.  It can also include those conducted with non-U.S. merchants, no matter the point of purchase.
Additional fees: Some banks charge for requests like wire transfers, replacement debit cards, and stop-payment requests.
To find a truly free checking account, check with local banks and credit unions.  Some offer checking accounts that may not have monthly maintenance charges. Some online banks also provide free checking.  Also, look to qualify for fee waivers.  At most banks, you can avoid fees by meeting certain criteria. For example, if you set up direct deposit into your account from employer, you may be able to bank with no monthly service fee.
Savings Account – Overview
Longer-term investment: Savings accounts are closer to a form of investment than a transactional account. You're giving a bank access to your cash, typically for longer periods than with checking, so they can loan out almost all of it to earn a return. You're limited to six convenient transfers or withdrawals per month from a savings account. Generally, checking accounts don't have restrictions on withdrawals or transfers.
Harder to spend: By design, money contained in savings accounts is hard to spend directly. Savings accounts typically don't have check-writing privileges or debit cards attached to them, so in many cases, you'll need to withdraw or transfer money before you spend it. You may be able to initiate a wire transfer from a savings account, but generally this will fall under your limit of six transactions per statement cycle.
Few fees: With savings accounts, banks make money off the "spread" — the difference between the interest rate they pay you and the interest rate on the loans they fund with your money. Because of that, and the fact that they don't cost as much as checking accounts to administer, banks typically charge little, if any, fees on savings accounts.
Pays interest: Current yields on savings accounts may not be great, but they may be able to help you accumulate a little more cash over time. Shop around to make sure you get the best rate on a savings account. You can compare rates on savings accounts on Bankrate to find the right account for you.
Benefits vs Downside
 The benefit – Savings accounts typically have higher interest rates than checking.  This makes it easier for you to grow your money faster.
The downside – You can't transfer or withdraw money all the time. In fact, there are federal limits on savings withdrawals. You can take money out of savings accounts only six times a month online, or using other methods. Going over that limit can result in a fee.  If you do it multiple times, your bank might convert the account to checking.
Savings Accounts – How They Work
Savings accounts are designed to keep your money safe while paying a modest amount of interest on your account balance:
Grow your money: Savings accounts typically pay interest, so you earn money on the cash you're not using. Compare that to checking accounts, which usually do not pay interest.
Separate long-term money: If you're saving for a rainy day or other financial goals (like a vacation or down payment), savings accounts can help. By removing funds from your checking account, you're less likely to overspend. It can even make sense to use multiple savings accounts for various goals.
Access Your Savings
When you need to spend your savings, you can access funds in several ways. However, federal law limits how often you can make certain withdrawals from savings. You can make up to six withdrawals per month, but certain types of transactions are unlimited.
Transfer to checking: You can move money from your savings account to a checking account when you plan to spend. That's almost instant if both accounts are at the same bank, and it typically takes a few days to move money from one bank to another.
Cash withdrawals: If you use cash and your bank provides an ATM card, you can get cash out of your savings account at an ATM. Likewise, you can visit a bank branch and request cash. You can withdraw funds with an ATM or bank teller as often as you want.
Request a check: Banks can also print checks payable to you. You can then deposit those checks at a different bank or credit union. There is no limit to the number of checks you receive when the checks are payable to you.
Savings Account Fees
Savings accounts tend to be less expensive than checking accounts.  Still, you should review fee schedules before you open an account. Monthly fees are not very common, but ATM fees are still a reality. Plus, if you make more than six withdrawals, you may face excess-transaction fees.
Savings Account vs Checking Account – Things to Consider
Before you open a checking or savings account, be sure to review all features, fees and interest rates. This will help you select the best account for your needs.
 Accessibility
When opening a checking versus a savings account, a very important consideration is how often you will need to withdraw your money. Many savings accounts have a monthly limit on how often you can take money out. If you exceed that amount, the fees can get expensive.
Savings Account – Federal regulations limit you to six withdrawals or transfers per month within savings accounts. If you exceed the number of transactions, there may be some charges and fees to consider. Some financial institutions will charge a fee and convert your account to a non-interest-bearing checking account, or just close your account.
Checking accounts generally do not have transaction limits but may have daily withdrawal limits.  This limit will effectively put a cap on how much you can take out of your account at ATMs.
Fees
Be sure to ask not only about fees for excess withdrawals or low balances.  Also ask if any fees are waived if you hold a certain number of accounts or meet a criteria within the institution.  One fee that many savings and checking accounts have is a maintenance fee. Depending on the financial institution, the amount can vary. Sometimes the fee is waived if you meet certain requirements.  For example, holding multiple accounts with the same bank or maintaining a minimum deposit amount.
Checking accounts also have additional fees that often include overdraft fees, foreign transaction fees, money order fees, cashier's check fees, and check printing fees. Some savings accounts apply fees if you exceed the transaction limit.
Interest rates
Typically, checking accounts earn little to no interest depending on the financial institution. Savings accounts, on the other hand, tend to earn more interest than checking accounts.  This is because savings accounts are meant to help you build your funds, while checking accounts are intended for daily use.
Debit cards
With checking accounts, you have access to debit cards to make payments or complete everyday transactions. Generally, there is not limit on the number of transactions you can complete.  Savings accounts do not provide the same luxury. Most of the time, your financial institution can link your debit card to your savings account to provide access to ATMs. However, you cannot use your savings account to pay for daily transactions, only to withdraw cash.
However, you may have to pay a fee to make purchases with a debit card.  Although it's not common, some banks and credit unions may charge you a fee if you make a purchase using your debit card. If you find this fee on your account statements or in the account's terms, you may want to switch to one of the many banks or credit unions that offer a debit card without a purchase transaction fee.
Convenient features
Checking accounts can help simplify paying bills. You can choose to pay bills via debit card, check or online.  Savings accounts don't allow for this, but a savings account may make saving easier with automated transfers from your checking account to savings. This way you don't have to think about saving each month. (Source: creditkarma.com)
Savings Account vs Checking Account – Why you need Both
It's very likely you already have a checking account.  While they're a convenient way to pay for things, most checking accounts are terrible places to save money. They are designed so customers can quickly take money out of their checking accounts to pay for things.  Savings accounts, on the other hand, are specifically designed for storing your funds and growing your balance through interest payments.  And if you're worried about the hassle of managing multiple accounts, it's easier than ever, with the ability to bank online and via mobile. Having two accounts can even allow you to dodge checking fees in some cases.
Just make sure you comply with Regulation D limits, which restrict you to six convenient transfers and withdrawals from your savings account per statement cycle. These limited convenient transfers from a savings account include preauthorized, automatic transfers; transfers and withdrawals made by telephone, fax or computer; and transfers made by check, debit card or other similar methods that are payable to third parties, according to the Federal Reserve. A checking account generally doesn't have limitations on the number of transfers or withdrawals out of it, according to Regulation D.

Generally, checking accounts and savings accounts allow an unlimited number of ATM withdrawals — assuming the savings account has ATM access.  There aren't usually different limits on the amount you can withdraw from a checking or savings account. But it's possible that your bank could require seven days' notice for a savings withdrawal — though this right is rarely exercised, according to the Federal Reserve. A checking account is also known as a demand deposit account (DDA). A DDA doesn't reserve the right to require at least seven days' written notice for a withdrawal, according to the Federal Reserve. Source: bankrate.com
Checking vs Savings – How to Choose
Look for accounts that earn high interest rates and have low service fees. If you pay a monthly service fee for a checking or savings account, you could lose money.  Avoid maintenance charges entirely if possible. There are many banks and online institutions that offer free checking and savings.  Many of them also have competitive rates.
Annual Percentage Yield (APY) for Savings Accounts 
The average APY on interest checking accounts is 0.04% APY, while the average savings account APY is just 0.06%. However, some banks and credit unions have savings accounts that earn more than 20 times the average.  When you put your money in an account that earns above average interest, you can grow your balance faster over time, without extra effort.  Say you deposit $5,000 in an account that earns 0.10% APY. After a year, that money earns about $5. But if you deposit the cash in an account that earns 2.00% APY, you would have about $101 in the same period.
The best savings accounts have rates near 2.00% as the annual percentage yield. Below are how three accounts with competitive interest compare.  A regular savings account isn't your only option for earning more interest. If you don't expect to withdraw your money for several months, or have a large amount to deposit — say, $10,000 or more — you could consider other savings options such as CDs.  Certificates of deposit have stricter requirements but usually offer better rates in return. And unlike investments, earnings are guaranteed. (Source: nerdwallet.com)
Could I lose my money in a checking account vs savings account if the bank fails? 
Deposit accounts at most banks and credit unions are federally insured up to $250,000 per depositor. If the account is with a bank, the funds would be insured by the Federal Deposit Insurance Corp., while credit unions are federally insured through the National Credit Union Administration. If a bank or credit union were to go out of business, you would not lose your deposit, up to the insured amount.
FDIC insurance — Worried about the economy and/or the viability of your bank? Fretting that a systemic failure or bank collapse will vaporize your checking account? Well, don't. Checking accounts are insured by up to $250,000 per account holder by the Federal Deposit Insurance Corporation. This coverage is provided automatically, free of charge, to banking customers. Source: fool.com
Checking and savings accounts at the same bank 
Pairing them makes things simple and convenient, but you may not find the best checking and savings at the same bank. If you want to maximize savings but don't want to change up your current accounts, consider opening a high-yield savings account at a different bank. Just make sure you have enough money in both banks to avoid fees.
The benefits: Having both accounts at the same bank can make it easy to manage your money and transfer between accounts typically within minutes. Some banks also waive monthly fees if you link up checking and savings. We've also analyzed banks for those with checking and savings accounts that rate well.
The downside: You may not find the best checking and best savings accounts at the same place. For example, banks with some of the highest savings rates don't always offer checking.
Advantages of keeping your money in a savings account vs. checking account 
The top reason to keep your money in a savings account is to earn more interest. Generally, savings accounts earn much more interest than checking accounts.
A savings account is where you should deposit money that you're not planning to use but would need for unexpected expenses.  Savings accounts are also an appropriate place for other funds that you're accumulating.  For example, money you want to save for a down payment on a home, a vacation or any future emergency.
A checking account should be thought of as a transaction account.  It is the place from where your monthly bills will be paid.  The place where you'll write checks or have money electronically drawn from to pay recurring expenses. A checking account should have a cushion. But the bulk of your money after the essential amount to pay bills should be in a savings account.  From there, it can accumulate the maximum amount of interest with a high APY.
Beyond Checking Accounts vs Savings Accounts 
Checking and saving accounts aren't the only accounts available at banks. Get familiar with other options.
MONEY MARKET ACCOUNTS have features of both checking and savings accounts. They often pay more than checking accounts, and they allow limited spending. Depending on your bank, a money market account might provide a checkbook, a debit card, or online bill payment options.
CERTIFICATES OF DEPOSIT(CDs) are for money that you don't intend to spend for at least six months. CDs typically pay more than savings accounts, but you need to commit to leaving your funds untouched for six months, one year, or more. If you cash out early, you may need to pay a penalty.
Bottom line
Savings and checking accounts are different, but they complement each other beautifully. What is the difference between checking and savings account features?  A savings account is a place to park your cash.  A checking account is more lika a wallet – to keep cash on hand in order to easily pay bills and spend it.
When selecting a checking or savings account, determine how often you will need to access your funds.  Consider the features you would like to have, and what fees you may have to pay. Only you can decide what account will help you reach your financial goals now and in the future.