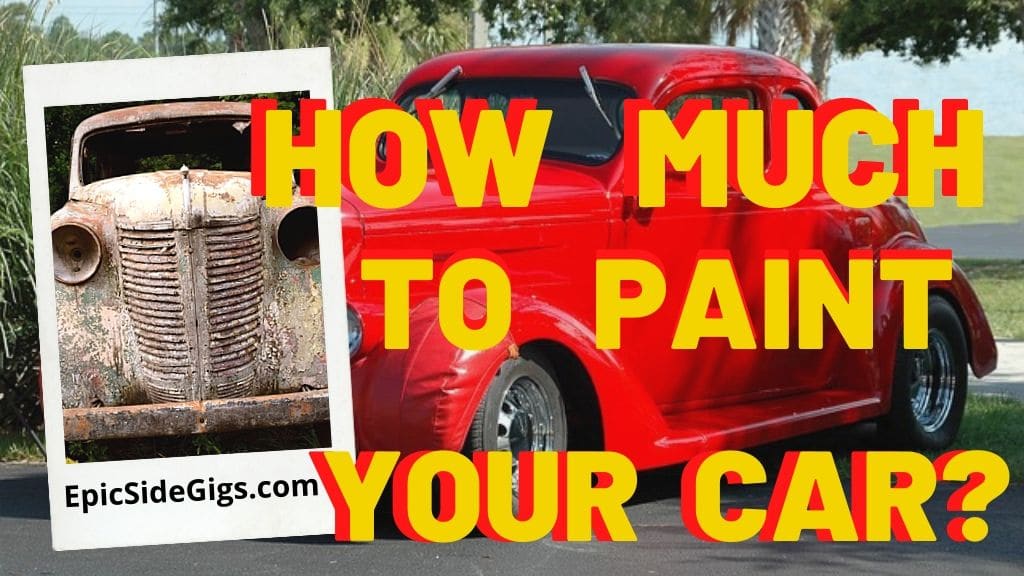 How Much Does It Cost to Paint a Car?  Automotive Painting Costs Guide (2020)
How much does it cost to paint a car?  Before you start contacting local auto shops for quotes, it's a good to have a rough idea.  Then you will be better able to distinguish between a good deal and a rip-off.   Know the facts and follow these few tips.  Your gola is to get the best paint job you can – for the money.
How Much Does it Cost to Paint a Car, Really? 
Making your old car look new can provide big benefits.  If you plan to keep your car, there is pride of ownership giving old reliable a face lift.  If you plan to sell your car, the return on investment can be substantial when you can ask top dollar.  But, how big does that investment need to be?  How much does it cost to paint a car, really?  The answer ultimately depends on what you are looking to get from the paint job.
The cost to paint a car, truck, or SUV varies widely depending on size and age of the vehicle.  Then, there is the level of detail in the preparation process, body repair and the quality of the paint. If you are looking for maximum impact, a multi-coat, high quality paint job can get quite costly.  However, you might just be looking for an economical way to increase the value of your car before you sell it.  In that case, a less expensive paint job should get the job done and be all that you need.  The cost of painting a car varies widely. Some of the most important factors that influence price include:
Size of the vehicle – An SUV or truck will cost more than a sub-compact
Make and Model of the vehicle
Quality – Type and quality of the paint
Body Preparation – Any necessary repairs will quickly add to the total cost
Detail Work – Quality of the work and attention to detail
How Much Does it Cost to Paint a Car Professionally?
You don't have to spend a fortune, even if you have your car painted professionally. Most pro paint shops offer different levels.  So, you can choose the level that fits your budget and your needs.
A basic paint job: A basic job will likely cost you less than $1,000. The process involves a few coats of synthetic enamel paint and less attention to detail than higher levels of paint jobs.
A mid-level paint job: For a bit more, you can get a mid-level, or standard paint job.  This includes sanding down the body to ensure a smooth, even surface.  It may also include minor repairs for dings and pitting.  The result is a more attractive finished product. This type of paint job costs $1,000 to $3,000.  For the extra money, it will last longer and look better than a basic paint job.
A showroom-quality job: If you have a car you want to keep and show off, you may want to invest in a showroom-quality paint job. This process entails removing all of the paint on the metal frame.  The body is repaired, hammering out any dents.  Then multiple layers of primer, quality paint and a finishing coat are carefully applied.  This type of paint job can cost $2,500 to $20,000 or more.
If you're repainting a car or refurbishing a ride you want to keep for a long time, it makes sense to invest considerably more. This is especially true if the car is highly valuable.  In that case, a cheap paint job will detract from its value should you decide to sell.
How Much does it Cost to Paint a Car?
Google "how much does it cost to repaint a car," and you'll find that there are national chains that charge only a few hundred dollars to paint your car or truck. This might not be a bad option if you're on a tight budget. But know that there are plenty of potential pitfalls to slapping a cheapo paint job on your car or truck. For starters, the quality of the paint might not match what was originally used on your car. Most newer vehicles, for example, have a clear-coat finish that adds extra work to the repainting process if you want to do it right. Add some repairs to exterior dings and small dents, and these steps can bump the price from several hundred bucks to well over a thousand.

These less expensive paint jobs won't have the same level of care and attention put into them as pricier options—how could they? According to the price-tracking site CostHelper, a third of consumers who purchased cheap paint jobs—which averaged $566—were unhappy with the results. Consumers spent between $1000 and $3500 for what they described as good-quality, "thorough" paint jobs. According to consumers who reported their prices to the site, it takes at least $2500 to obtain a "showroom quality" paint job. If you're in the mood to go wild with metallic paints or multiple colors—and maybe some flames down the side—look out. The most outlandish paint jobs on custom cars or hot rods can cost tens of thousands. But you don't have to break the bank to get a great paint job; consumers on the CostHelper site reported spending an average of $4975 for high-quality paint jobs. (Source: caranddriver.com)
How Good a Paint Job Do You Really Need?
If your car has only a few minor chips and blemishes, then it may not be necessary to paint the entire vehicle. You can keep the job under $1000 by repainting the hood and touching up door dents and scratches.  This type of touch-up can range from $200 to $1000, depending on how much work is required.  Where you live can determine how much repair and touch-up is required.  Cars in hot, sunny climates will see more hazy finishes and faded paint caused by heat and damaging UV rays. Touch-up repairs involve more work as large surfaces such as the hood, rear deck, and roof may need attention. Cars in cooler climates might suffer from rust beneath the surface.  This can require more extensice body work to remove the affected areas before paint can be applied.
Don't Paint over Problems 
It's important to have realistic expectations regarding paint vs repair. Sometimes new paint can have the opposite effect if you ignore dents, scratches and rust.  If you paint over damage without fixing it properly, a fresh coat of new paint can actually highlight problems.  For the best results, the auto body shop should first remove the old paint on the car and fix any damage that is present.
New paint should not be used as a cosmetic cover-up for a structural problem.  Painting over dings and rust will only make matters worse.  New paint will likely make body damage even more visible.  Rusting panels will continue to rot if they're not properly repaired. Paint is cosmetic, not a method to hide body damage from a potential new owner.
Keep Your Budget Realistic 
Let's say you have an older vehicle with high miles.  Maybe it's valued at a couple thousand dollars. It's looking a little tired, but it's still running great. Choosing a cheaper repaint in the same color is fine if all you want is a quick exterior face-lift for minimal cash outlay. This might even be a good solution if you're looking to sell the car. Spending several hundred dollars, maybe a thousand or two, could bump the asking price.
But, be careful.  If you spen too much, it may be more than you'll be able to recover on the sales price. On the other hand, if you have a vehicle that's either a classic or something with a higher value, skimping on paint can be a recipe for disaster. You could adversely affect the car's value and potentially be stuck with a finish that's not even close to what the car looked like when new.
Understand the Work Involved 
For an inexpensive paint job, preparation will be minimal.  The shop might not include repairs to rust and minor door dents. The glass area and other non-painted exterior trim will be covered up before repainting, but that's about all you should expect. From 50 feet away it might look fine, but up close there will be numerous telltale signs it was a surface respray.  There might be overspray on the rubber gaskets around the windows and on exterior trim.  Watch for differences in the color of the doorjambs, and spots of overspray where the masking off wasn't perfect. If you know this going into the process, then you won't be shocked or disappointed. Just understand what you're paying for, and check to see if there's any kind of warranty on the work. (Source: caranddriver.com)
Paying More Gets You a Better Paint Job
The more you pay, the better the ultimate result. Some shops only offer high-end and won't do cheap, budget work. However, many will offer several levels of paint jobs. As the price increases, shops will remove more trim pieces and items like the head- and taillamps. This ensures the pain will cover the necessary contours.  This includes bends in the sheetmetal and crevices in the body where the older paint might have shown through. In more expensive paint jobs, the prep should involve sanding off the older paint and fixing exterior damage.  It should even include removing the interior, glass and trim. This adds time and money to the process.  This is why high-end paint jobs can cost $5000 or more.
Restoration
The most expensive paint jobs amount to a restoration: having the car largely or entirely disassembled to make certain every single section and panel gets repaired and repainted to look as good as or better than when it rolled off the assembly line. This includes doing metalwork and using body filler to ensure panels are arrow straight before painting, attacking the engine bay, painting the interior of the trunk, and repainting other, often extremely hard-to-reach spots. This process could cost tens of thousands of dollars and is usually reserved for high-end classics, vintage vehicles, or highly valuable sports cars and exotics. Just check out the work done on TV restoration shows such as Overhaulin' or Restoration Garage, and you'll see how much time and effort go into an all-out refurbishing.

Remember, these shows often compress months or years of work into a single half-hour installment. Full restorations run into the hundreds and sometimes thousands of hours in pursuit of paint perfection. And you pay dearly for those hours.  For most of us, though, those are far better paint jobs than we'll ever need for our personal rides. Keep the above five points in mind as you consider a new paint job, and you'll find it easier to match your needs to your budget. (Source: caranddriver.com)
For older vehicles, the cost of a professional paint job may be excessive. In these cases, you may wish to try painting the vehicle yourself. The necessary materials are widely available from hardware and automotive stores for as little as $75.
Gloss paint
Primer
Foam brushes
Paint trays
Masking tape
Sandpaper
Mineral spirits for cleaning
One of the biggest concerns with a DIY project is finding a location to paint the vehicle. Many body shops have climate-controlled booths, designed to limit the amount of dust and dirt that might come into contact with the paint and ruin the finish.  For a DIY project, the best option is to paint the vehicle in a clean, well-ventilated garage. (Source: bankrate.com)
Quality vs. Price 
Everybody wants to end up with a good deal.  As a result, it's tempting to go with the lowest bid when you are contacting body shops to get quotes for your project.
However, you get what you pay for. Lowball quotations may be for a low-quality paint job, using inferior materials. Rather than removing trim, the painters may simply mask it off; and they may not paint areas that aren't visible. Furthermore, the quotation may not include certain services that the auto painters charge as an additional rate.  Before committing to a service, ask the painters what their price covers. Check if sanding and preparing the bodywork is part of the cost, and look at previous examples of their work to make sure you are happy with the quality. (Source: bankrate.com)
How Much Does it Cost to Paint a Car a Different Color?
If you want to repaint your entire vehicle with a different color, you should be aware that the job can be expensive. Unless you are only looking for the cheapest of paint jobs, then you should be prepared to pay between $1,500 and $5,000 for the work. Cheap companies can do the work for less than $600, but you get what you pay for.  Cheaper shops usually don't strip the car down to bare metal and just paint what you can see on the outside.
In order to completely change the color of a vehicle, the paint shop will have to take everything out of the vehicle. So that everything matches, even the engine will need to be removed as well as the interior. The seats, dash, console and even many pieces of trim may have to be removed so that the vehicle can be completely painted. This is one of the reasons why a better shop will charge more for painting a car with a new color.
What is the most expensive color to paint your car?  Red and yellow paints typically cost the most because of the higher cost to create and finish these colors. Expect to pay a few hundred dollars more for red or yellow paint jobs.
How Much Does it Cost to Paint a Car Matte Black?
Painting a car matte black should cost as much as you would expect to pay for changing the color of the vehicle.  Expect to pay $1500-$5000 and choose a shop that has experience with matte finishes.
How does matte paint work? Exactly the same as conventional automotive paint, except for the clearcoat. In a matte finish paint job, that clearcoat dries to a rough texture, rather than drying smooth. This forms the unique surface texture responsible for the dull, sheen look of matte paint.
How Long Does it Take to Paint a Car?
Some vehicle paint shops advertise a turn-around time of three days or less.  In general, you should expect your car to be in the shop for at least a week. Why does it take so much time for the car to be repainted? New paint cannot be applied directly to old paint. The fading, oxidation, and irregular surface of a vehicle's existing paint does not allow for the smooth application of a new coat. Removal of the existing layers of paint and other prep work must be completed before new paint can be applied. Also, it takes time for each subsequent layer of undercoating and topcoat to dry before the next coat can be allpied.  If a car requires extensive prep work, it takes longer.  It will also raise the total price for the paint job.
How Much Does it Cost to Paint a Car – Conclusion 
When deciding to get your vehicle repainted, always be sure to figure out your budget and realistic expectations for the outcome.  After researching the costs, consider your budget carefully. If you try to get the job done as inexpensively as possible, the work may not be to a high standard.  This will leave you displeased with the result. Over one-third of customers admitted they were not satisfied with the results of a basic paintjob under $600.  Unless you are willing to spend $1000-$3000, you may decide it's better to trade in your car for a new model. You also may want to consider alternatives, such as vinyl wraps which start at around $1,500.
Having your car repainted is an investment in many ways. Not only will you treat yourself to a vehicle with a like-new finish, you will add to its residual or resale value. By investing in repainting, you can get a higher trade-in value for an older vehicle. You can also raise your asking price when selling a used car directly to a buyer. But, for cars more than 10 years old, you should consider if the improved trade-in value will outweigh the price of repainting the car.