It is not a difficult task to sell old laptops online
.  There are many sites to sell electronic gadgets online for cash, so you don't even have to search much or spend a lot of effort doing research.  Many different sites buy used electronic gadgets so comparing prices is also pretty easy.  Whenever I upgrade to a new laptop, I usually back up the hard drive and then trade in the old one at the same time.  But, if you've already got an old laptop laying around, it likely still has value.  Why let your old laptop gather dust when you can make money off it?

Before You Sell: Find Out What Your Laptop is Worth
Laptops tend to decrease in value rather quickly as new models get released all the time.  Electronics depreciate quickly, so you'll want to check your laptop's value before you go to sell it.  That way, you'll know if the offer you're getting is worth your time, or where you should price your laptop – if you choose to sell it yourself.
Performance is King
Just like new laptops, higher performance will command a higher price for a used laptop. Determining the performance of your laptop starts with the central processing unit, or CPU. Processors have both a speed associated with them, measured in Gigahertz (GHz) and the number of cores which can run simultaneous processes. Faster processors with more cores are more valuable than slower processors with only a single core. Other elements that effect performance are the amount RAM (Random Access Memory), and the quality of the video card.
How are the Batteries Holding up?
Older laptops tend to have older batteries which discharge quickly and don't give you much time for unplugged computing. Batteries are expensive to replace, so a laptop with a weak battery is worth less than one with a strong or new battery.  If you have replaced the batteries, you want to list that as a selling point.
Lighter is Better
With a few exceptions, such as lower-performing netbooks, smaller and lighter laptops are worth more than larger, heavier ones. Lighter laptops are often built using expensive materials, such as titanium or magnesium.  They have more advanced, lighter batteries and they might use cooler-running processors. An exception at the large end of the spectrum would be a gaming laptop which has a large screen and high-performing hardware that may demand a higher price.
Check the Price Online for your Used Laptop
Check out UsedPrice.com to get a rough starting point for the value of your computer.  Visit the site, plug in the information for your computer, and get its approximate value.  If, for some reason, you can't find your exact model, just search the internet.  There are many sites and even local companies near you that can provide a quick and fair estimate.  For the greatest accuracy, check more than one source.
Sell Old Laptops Yourself If You Want Top Dollar…
If you want to get top dollar for an old phone or laptop, then you have to sell it yourself. But, be aware that means you're going to have to put in some extra effort. There are sites that can do the work for you, but they can take a big piece of your profits in the process.  There are many places to resell your old laptop, and they tend to work the same way.  They provide a way for you to list your product with a photo, description, and price.
Sell your old Laptop Local or National?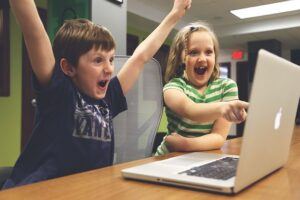 Some of these websites have a nationwide or global reach, but most of them are focused on local listings. Generally, the websites that offer local listings are super easy to use and fulfill, but they aren't always the best for maximizing profits.  A nationwide listing can get your device in front of a larger audience of potential buyers.  But, it may also involve more difficulty in shipping and insuring your laptop for delivery to another state.
You can't just throw up any old listing for a product and expect to make a bunch of money. You need to put in a little effort to make it stand out.  Keep your listing clean, detailed, and professional. You want your  potential buyers to spend good money on your old laptop, so eliminate any hesitation or anxiety they might have.  If a buyer is left with questions or reservations about your listing, then you haven't done a proper job selling them your product.
You need to make sure that your laptop's photos, description, and price are appealing and informative. This doesn't have to be difficult or time-consuming.
Wipe Your Drive – Check if Anything's Broken
Don't sell a laptop that's full of personal information. Take the time to format your laptop and erase the hard drive, before selling it. This is an easy step, and it gives you the opportunity to see if the device is still working.
You can still sell a broken device for a decent amount of money, but a functioning device will always net you more cash. Check that there isn't anything wrong with the display, that the battery will still charge, and that all of the buttons work. You can go to a repair shop to get any problems fixed—or not. Some people will buy broken electronics.  In general, a clean, undamaged, working device will always command a higher price.
Formatting a broken device can be tricky, but it's still an important step. If your laptop's screen is broken, consider having it repaired and then formatting the device. The repair will increase the value of your laptop, and you'll be able to wipe your data.
Make Your Product Look as New as Possible
Nobody wants to pay top dollar for electronics that look used or are all banged up.  Take a minute to clean your old laptop before you sell it. A little isopropyl alcohol can go a long way (don't use soap and water). Even if it still works, like new appearance is everything.  Be sure to take any stickers off of the cover, and clean the residue with alcohol. It can be tempting to use a knife to remove stickers, but try to do it with your hands first, so it doesn't get scratched up.
After that's done, clean the details, like the buttons and creases. With laptops, you might want to take a minute to clean the keyboard.  If you're trying to sell electronics that are damaged, then it can be tempting to skip the cleaning phase. Don't skip it. Even people that buy broken electronics pay more for a device that looks clean.
Take Good, Detailed Photos
If you're listing your old laptop on a website like Gazelle, CraigslList, eBay, etc, you'll want to put up some good pictures. This may seem intimidating if you are not a photographer, but it's a very important part of selling. Buyers look at pictures before they look at descriptions.  People will pay top dollar for a product that's listed professionally.
A Smart Phone Camera is Fine for Pictures
You don't need a fancy camera to take good pictures – your phone will work just fine.  Try to take pictures on a clean surface with a lot of light. Ideally, your product listing should look like it's done by a business, not by a grubby kid in a dirty living room.  Check out other listings to get an idea of what is expected and what kind of angles and information appeal to you.
You don't need to take a million different pictures; just make sure that all of your bases are covered. Turn the device's display on (if it works) and get a good mix of wide shots and close-ups. Take pictures of any areas that are scuffed or damaged.  Be sure that the product isn't obscured by anything like a strap or a case. Remember, potential buyers shouldn't have to ask you any questions.
Include Photos of Accessories – If Included
If anything extra is included with the laptop that you're listing, then you want to show it in the pictures. These extra items will always add some value to whatever you're selling.  Buyers need to see what they're buying. If cables are included, show the cables. If the retail packaging is included, show the packaging.
Write a Good, Concise Description
You don't need to write an essay for your product. If anything, a short, organized description is best. That way, buyers can take the leap without becoming overwhelmed or confused. Remember, buyers shouldn't spend their time thinking; they should spend their time buying.
Provide the Specs
For laptops, try to include the full model number (it's usually on the bottom of the laptop), and specs like RAM, internal storage, and processing power.  Be sure to mention any flaws, even if they're just cosmetic. And include info about anything extra that comes with the device, like charging cables.
Keep it Simple and Accurate
If you're selling a device that's broken, then take a second to consider who would buy it from you. Maybe someone will use it for parts, or maybe they'll try to fix it. You need to include additional info that might be important to these buyers. Detail if anything's missing, if the device makes any noises, or if it turns on at all.  You can even add some enticing, sales-type jargon, if you like.  But, don't overdo it. As an example: "This lightly used laptop is very fast, and it's ready for gaming or office work."
Don't Lie or Mislead
Above all else, you need to follow the golden rule. Don't lie, and don't guess. If you can't find the technical details for your old electronics, then you need to admit that in the description. If you've never run a game on your old laptop, then don't say it's "Fortnite-ready."  If the blue screen of death occurs after ten minutes of use, you should disclose that – or have it looked at before you list it for sale.
Figure Out a Good Price
There are a couple of ways to figure out a good price for your product. You can set a figure based on the retail price, or you can check how much money other people are making off of the same product.
If your laptop is still pretty new, you can base your sale price on the retail price. This method works best for electronics that are still on the market. Take the current retail price, and chop off $100 or $200. There you go, that's a decent sale price. Of course, you'll want to reduce the price even more if there are any problems or blemishes.
Check the Going Rate for Similar Used Laptops
The other way requires you to do a little research for setting a price. However, it lets you set a realistic price if you are looking to maximizing profits. You'll need to figure out how much money people usually pay for the product that you're selling. This can be pretty easy using a large market place to gather your data.  For example, using eBay's advance search tool, just type in the name of your product and click the "Sold Listings" box.  Instantly, you can set a price based on previous listings that have sold on eBay.
If the laptop that you're selling has some blemishes, take a second to look for sold listings that have similar problems. This way, you can get a better idea of how much buyers are willing to pay for your damaged product.
Where to Sell Old Laptops
Gazelle 
Using Gazelle is pretty simple.  To find out the Gazelle Value for your item, there are a few simple steps to follow:
Find your item on www.gazelle.com. If the item is not on their website, unfortunately they do not accept it. Do NOT select an item if it does not exactly match your item.  They we will not be able to offer you anything for it.
Once you've found your item, let them know what condition it is in by answering a few questions. Be as objective as possible.  For example, a rating of "Flawless" would be for an item which appears and functions as if it has never been used – right out of the box.
If you like their offer just complete the checkout process and tell them how you'd like to get paid: Check, PayPal or Amazon.com gift card. Shipping is FREE, and their offer is good for 30 days.  The faster you send it in, the quicker you get paid.
Once they receive your box, the Gazelle team checks out the contents.  If what you send in does not match the condition you described online, you will be given a revised offer. You'll have the option to decline the new offer during a hold window of 5 days. If you decline the new offer within that 5 day window, they will send your item back to you and pay for the shipping.  If you accept the offer, you will be paid – usually within 7-10 days.
Gazelle has been around for over 10 years. They're still around and still buying people's used devices today – so long as it's an item you can find listed on their website. The online reviews for Gazelle are mixed, but customers tend to love them or hate them.  There are many 5 star reviews, and many 1 star reviews, with very few in the middle. For example, below is a typical 5 star and 1 star review:
5-Star ***** Best vendor in my opinion  Just traded in my Iphone 8 with them after rejecting a reduced offer from another vendor. Have used them several times and they have always been easy to work with, process and pay promptly and on one occasion even increased the price because my item was in better condition than what they expected.
1-Star * Same Bait and Switch experience as many…  Same Bait and Switch experience as many other users. Phone was kept in an Otter Defender case its entire life, yet had unacceptable scratches. Had them return the phone instead of taking the lowball offer.
eBay
EBay began over 20 years ago as an online auction site.  The buyer with the highest bid won the item.  It is more than that now.  It has become a true marketplace.  Sellers can list items at a fixed price and even open their own store.  If you click over to eBay right now, you'll find that they have a very robust section of their site dedicated to computer equipment of various types, including laptops and netbooks.  The way it works is pretty simple:
The seller lists an item, adding photos, a description, a price and shipping options.
Buyers then can bid on it or simply "Buy it Now."
When a deal has been made, buyers make payment via any number of payment options
The seller ships the item as instructed by the buyer.
When the transaction is complete, the buyer and the seller give each other feedback about the sales process and the item sold.
You can sell for a set price or put a reserve price on an auction to make sure you're not selling your laptop for less than you want to make.
While it may be free to list an item (depending on how many items you list a month), the seller pays a fee when it is sold. You can learn more about fees and rules here – eBay fees. Also, sellers usually pay fees associated with the payment method the buyer uses. There are other services you may opt to pay for as well.  Just remember, eBay has a lot of rules to protect both buyers and sellers, so before you begin, know what they are.
Amazon 
Amazon is the world's largest online retailer.  Selling on Amazon is perfect for individuals who want to make a little money while selling the things they no longer need. If you want to know how to sell on Amazon, just follow these steps.
Amazon has a service called Sell as Individual. This allows individuals to sell their used goods through Amazon, with the company taking care of all of the boring stuff.  An individual lists a product they want to sell. If and when someone places an order for that product, Amazon coordinates the packaging,and shipping, and delivers it to the buyer. Amazon takes a percentage of the sale which varies depending on the type of item being sold.
To sell on Amazon, log into your account and select Your Seller Account from the Your Account menu. On that page, click on Start Selling, and select whether you'd like to be an individual seller or professional seller. Fill in the required information to set up your account.
Of course, you can also sell your used items directly to Amazon. They accept many types of electronics as a trade-in. For example, you can trade in your used Kindle, tablets, cell phones, and used laptops. Amazon will make payment in the form of an Amazon Gift Card.
Gadget Salvation 
Gadget Salvation is designed to help you sell your used gadgets online and get paid for them. The process is pretty straightforward:
Get a Quote – Select your device and answer a few questions about the condition of your gadget. Fill out the checkout form and receive a free pre-paid shipping label.
Ship it for Free – All you need is a box. Print out your pre-paid shipping label, pack your device and drop it off at any UPS Store.
Getting Paid – Once delivered, they'll test your device and get you paid within 48 business hours. Choose between Check, PayPal, Venmo or Bank Transfer.
If they determine the condition is worse than what you indicated, they'll send you a revised offer. You can either accept it or request that they return your used laptop to you (which they'll do free of charge).
There are no commitments, cancel anytime and receive your device back at no charge.
Craigslist 
Craigslist is an online classified ad website divided into different city areas. Users post ads and can choose from several different categories.  A basic understanding of Craigslist allows users to interact with one another safely.
LetGo 
Letgo is a mobile application that allows users to buy from and sell to others locally using a smart phone. You can use Letgo to bargain shop or sell things by downloading a simple app to your phone.  Downloading Letgo is simple.  It is free and available on iOS and Android.  Even though the application is free, you may need to enter your credentials or scan your fingerprint to continue.  You must sign up before you can post or purchase. Simply launch the app and tap on the signup button to create an account.
The process is similar to other classifieds applications like Craigslist.  Sellers post an item with a picture and wait for a buyer to contact them. Once a contact has been made, the seller can then haggle, offer a return policy, or sell as is.  A meeting is then arranged to exchange the item for cash.
When a buyer opens a listing, they are presented with the image snapped by the seller, some brief information about the product, and a price. Just below the product description are two buttons. The potential buyer can tap Ask a Question to inquire about the product or Make an Offer to immediately try to buy the product.
If you do not own a smartphone or tablet – no problem. Letgo is available online through a traditional web browser on your desk top or laptop.  The navigation bar moves to the top of the screen, but the functionality is basically the same as in the mobile application.
Mac Me an Offer 
Are you trying to sell a Macbook or another used Apple product? MacMeAnOffer is a whole site dedicated to used Apple products.  The process is quite simple:
Select your Apple product from the Mac Estimator to get a base price.
Complete the seller form, and they email you within one (1) business day with a formal offer.
Once you accept an offer, they provide documentation, instructions, and a prepaid shipping label.
Payment is issued via check or PayPal within three (3) business days of delivery.
According to Flipsy, they have great reviews from folks who've sold to them, make good purchase offers, and they're a Google Trusted Store.
Facebook Marketplace
Facebook Marketplace is an open exchange where users can buy and sell new and pre-owned items to other users.  Anyone can list products or services for sale and gain access to a local audience.  Built as a peer-to-peer platform, whenever someone wants to make a purchase on Facebook Marketplace, it's done through Messenger.
Anyone can sell an item on Marketplace as long as Facebook approves the listing, based on its Commerce Policies.  You don't need a separate Marketplace account to start—you're able to make your first sale through your personal or business account.To create your first listing:
Click on the Marketplace icon.
Select Sell Something from the left-hand menu.
Select the type of product being listed from three options – Item for sale, Vehicle for sale or Home for rent.
Once you've selected one of these options, you'll be prompted to create the actual listing for this product.  Facebook requires the following information for every listing.

Category
What you're selling
Price
Location
A description
Up to 10 images of the product
The last step is to click Post.  Facebook automatically includes Marketplace as the audience for your listing, which means that anyone browsing the platform will be able to see your product.
Once a buyer indicates interest in your listing, you'll get a Facebook instant message and can coordinate meeting up with them and getting paid. As always, safety first: meet in a public place, bring friends, and don't tell strangers on the Internet where you live.
Swappa
Swappa is a marketplace that matches the buyers and sellers of cell phones, ipads, laptops, games and other lightly-used electronics.  Unlike many of the other sites that offer to buy your electronics , Swappa is not buying your items for resale. It is providing a marketplace for you to reach the final buyer. As such, it promises a higher price because you're cutting out the middle-man. Or, more accurately, the middle-website.  The disadvantage is that you have to do a bit more work, including verifying that you own the item – and that it's use and access is not locked by a carrier. You'll also communicate and negotiate directly with the final buyer. If someone buys the phone, you get paid through PayPal.
This is more of a community than a traditional eCommerce site, as you can buy and sell directly with other people rather than having to go through a middleman. This direct communication between buyers and sellers can provide a range of benefits including being able to get the best price on your products.
All transactions are carried out securely via PayPal – payment is swift and efficient.
There are no fees for sellers.
Seller defines the return policy.
Ability to liaise directly with buyers.
Ability to get more money for the item you are selling.
A simple selling process with greater control.
There is an expiration date on your listing.
Seller is responsible for device and its condition until it gets to the buyer.
In order to sell your used laptop with Swappa, you have to create a listing with pictures and a description. Swappa reviews every listing to make sure that what you're selling meets their quality criteria.  You also have to prove ownership of the item before your listing is approved. However, you get to set your own price, and Swappa handles payment so you get paid immediately via Paypal.  Then, it's up to you to ship your item directly to the customer. The only party to pay fees on Swappa is the buyer, and that fee is incorporated into the advertised price for your used laptop.
Best Buy
The Best Buy trade-in program works like other trade-in and buyback programs.  The process is straightforward:
Visit the Best Buy trade-in page and search or browse for your laptop
Answer a few questions about its condition, and Best Buy will make an offer
Accept the offer, and Best Buy will generate a free prepaid shipping label
Print the shipping label, package your laptop, and ship it to Best Buy within 14 days
Once Best Buy receives your used laptop and verifies its condition, they will send you an e-gift card via email within 7 to 9 days
Device Pitstop
It is a retail and repair store that buys, sells, trades and repairs laptops, tablets, and smartphones of all varieties—from Apple products to Windows and Android. They provide refurbished and factory re-certified laptops and other personal devices at reasonable retail prices.  Inventory is acquired on an ongoing basis from customers selling their used or no longer needed electronics to Device Pitstop for CASH On-the-Spot.  They also accept used electronics, including laptops, for trade-in.  To sell a used laptop, find a location near you. Stop by with your used equipment and walk away with cash.  You can't beat the simplicity.  The stores are located in several U.S. states.
Nextworth
Is a simple site to use if you're ready to sell a used laptop or old computer.  The site accepts various types of devices and trades based on its current needs. You can get cash for your used laptop from the comfort of home.
Get a Quote
Ship it Free – Free shipping and free insurance on everything you send with racking and progress info from the time it arrives until the time you get paid.
Getting Paid – Products are wiped-clear of any personal information, reconditioned, and resold to new customers. Payment is sent following inspection.  Most customers receive their payment within a week following device receipt.
Choose Your Payment Method – PayPal or Check
OfferUp
OfferUp is another mobile application for both Android and iOS devices that helps you sell locally.  It is a sort of hybrid of Letgo and eBay, but it makes posting an item for sale pretty simple. Here's how you do it:
Set up an OfferUp account – and set your location.  Your exact location will not be shown to potential customers, just the general area you are selling into.
Take or download photos of your item – Pictures let buyers see what they're really getting. Make sure you have a photo that clearly shows the item without other clutter.
Title your item – Start by keeping the title short.  You can always add more details later if needed.
Describe your item by selecting a category and the condition – The app gives you a list of options. You can choose from a wide range of categories. The condition selection is more limited, but you can use the next step for additional clarification.
Provide details that further describe your item –  Add any extra details that clearly describe the condition of your item.  Make sure the customer understands exactly what you have to offer.
Set your price: There is a Firm on Price button. By clicking it, you can choose whether you want to have a firm price or allow buyers to haggle with you.
Wait for buyers and offers – You can boost your listing for a fee, but there is no guarantee that an item will sell. You can also elect to ship your item rather than dropping it off face-to-face. By choosing this option, your item may be seen by people across the country rather than just in your area.
SellBroke  
Get a quote –  Select the device that you want to sell us and then select the condition that it's in. If you've got more than one laptop, phone, tablet, or other electronic device to sell us, you can add it to your cart and continue adding more!
Ship the Device Free – SellBroke will e-mail you a FREE UPS or FedEx prepaid shipping label in PDF form along with a PDF packing slip.  Tape your prepaid shipping label to the box and drop it off at any FedEx or UPS store location.
Let SellBroke check everything out. – If the condition matches what was put in the instant quote form, your money sent out as soon as possible. If there's any problem, or the condition doesn't match what was put down during checkout, they will contact you via e-mail with a new quote or offer to return the item to you.
Payments are sent via Google Pay, PayPal or a BoA company check.
SellBroke will do all the erasing of your data so that your information stays secure.  That's one less step you have to take.  However, you can always format your data and wipe your drive yourself.  It's up to you.
SellLaptopBack 
SellLaptopBack is a sister site of SellBroke that focuses mostly on laptops. The process is similar:
Fill out the Online Form – Select your laptop or phone.  Just choose from laptops in the laptop database or enter the model into the search box.
List the condition of your laptop  – provide any additional information or product specific problems. It's good when you selling your laptop online to document all the known details about condition.
Get Your Quote – In less than a minute you'll receive an instant quote. If you like what you see complete the process by providing your contact information. Also select the shipping method and type of payment you prefer.
You will Received a Protective Box – and a pre-paid label for your laptop.  Place your laptop inside and follow the instructions provided on the box.
Technicians Will Inspect the Laptop – After receiving your laptop, they will inspect it to insure that it corresponds to the description you provided earlier. If there some mistakes about your laptop and its condition, they will contact you.
Receive Your Payment – Once everyone agrees on condition, they will issue your cash payment using the method you choose earlier in the instant quote process.
VarageSale
Another handy app you can use to sell a used laptop is VarageSale.  It currently operates in all 50 U.S. states and some parts of Canada.  You have control over your pricing and can communicate with buyers securely through the app.  VarageSale targets local buyers, so you don't have to worry about shipping or not getting your money online.
Download the Application – Available on IOS and Android
Create an Account – Find your location and join a community close to you.  You will be asked to accept Facebook linking access and enter your email address.
Post Your Item – Posting an item is easy, and VarageSale walks you through the process.
Negotiate Your Best Deal – When a buyer is interested in purchasing an item, they will message you via private messages.  Be sure to research and check out the buyer by reading member ratings.  You don't have to sell to anyone you don't trust.  After you agree to all the details, you can reserve the item for the buyer.
Complete Your Transaction – Once you both have agreed to a time and a place, you schedule the meetup.  Follow through and meet up with the buyer, who will mark the transaction as complete after inspecting and purchasing the item. Try to meet in a public place during the day, if possible.  Remember, safety first.
Other Options for a Used Laptop
Recycle
For those who don't have the time to list used electronics, don't just throw them away.  When electronics are dumped or thrown away incorrectly, those toxins can leak into landfill, groundwater, and vaporize into the atmosphere.  There are a number of eco-friendly ways to dispose of your old electronics that could potentially help people in need or in under-served communities. It's important to note that the disposal methods can differ by device.
One way or the other, devices can be recycled, refurbished or redistributed. Local governments and schools often collect e-waste for Earth Day/Week.  Many municipalities schedule collection days year-round.  In some cases you may have to fill out a pickup request online. To get the details, go to the website for your local government or sanitation department.
If the device is less than five years old, chances are someone else can put it to good use.  Newer laptops can go to local nonprofits or libraries after being refurbished. You can find a program through Microsoft's Registered Refurbisher directory.
If the device is too old or out of shape to donate, you can recycle it.  Our friends at Earth911 make it easy.  Just search for laptop computer and enter in your ZIP code to find the nearest drop off site. Dell's Goodwill Reconnect Program also accepts old and broken hardware.
Donate
It's always nice to give back, and a used computer is a valuable tool for a family without the resources to buy one.
 

International Organizations—World Computer Exchange
The World Computer Exchange works closely with more than 450 partner organizations, a consortium of 25 strategic allies, and a number of informal allies throughout Africa, Asia, Latin America, the Caribbean, Eastern Europe, and the Middle East.
This organization accepts working items only, including dual core and quad core desktop and laptop computers, AMD and Celeron computers that are at least 450 MHz, and Mac G3 and G4 laptops or later.  Monitors must be 15- to 19-inch color models that are less than nine years old and have a built-in auto switch for the voltage. Working tablets, ​cell phones, keyboards, mice, cables, power cords, parts, and scanners are also accepted.
Contact World Computer Exchange in advance to schedule a delivery time at their nearest chapter.
National Organizations—Computers With Causes
There are also National non-profit organizations that specialize in older, but still functional computers and electronics.  According to Computers With Causes  – "Your computer donation is completely tax deductible and will make an amazing difference to families in need throughout the United States."
Computers With Causes will repair, refurbish, and properly prepare donated property for placement into an educational environment or other cause they support. They accept laptops and desktops, as well as tablets, servers, and even printers and game consoles.
Upgrade
And finally, if you have a child or a friend in need of a computer, you might consider giving the one you've outgrown a quick tuneup. If it was purchased in the last few years, you can make it run faster with a couple of tweaks.
If you're simply enduring sluggish performance or you've run out of storage space, then the problem can probably be solved by either increasing your computer's RAM or replacing its hard drive. Other issues have more complicated solutions that may extend further than a basic part swap. You lack the latest graphics processor, you may have insufficient RAM, or, you may be running short on hard drive space.  A quick check by a technician can answer your questions and advise if a tune-up makes sense.
In any case, passing your older laptop to a school-age child or a friend is an excellent option to consider.  Everybody wins!
Conclusion: Best Place to Sell Old Laptops
If your laptop is pretty new and you want to get top dollar, you should consider selling it yourself on a site like eBay or CraigsList.  If all the descriptions and photography sound like too much trouble, you can still sell it, but there is an easier route…
Resellers, like Gazelle and Gadget Salvation, are willing to pay a decent amount of money for old devices. These websites are super easy to use.  There's no writing or searching involved. You plug in some information about your laptop and get a quote on the spot. If you like the quote, then you send the device to the reseller and get paid.
Now you have a whole list of places to sell that used laptop.  There is no excuse to leave it sitting on your desk, or in a drawer collecting dust.  Make some money from it!  Have you used any of these places to sell laptops?  Which is your favorite?  Let me know in a comment below!