Where do I find My Wells Fargo Routing Number?
If you ever transfer money online, you need to know your bank account number and routing number.  If you have a checking or savings account with Wells Fargo Bank, then at some point you will need to know what your Wells Fargo routing number is. This number is also known as the American Bankers Association (ABA) number, or routing transit number (RTNs).  The routing number is used to identify an account and to transfer money from one account to another. For example, you will be asked for both your routing and account number if you set up employee direct deposit or automatic bill pay. Both numbers will also be required when you order new checks and when you send or receive a wire transfer.
Most people know their account number because it is usually printed on any bank statements received in the mail or found online.  Also, your account number was sent to you in the mail when you first opened the account or received your printed checks and checkbook. As for your routing number, it is not always given to you as clearly and direclty. It is there in plain sight, but you need to know where to look for it.  Fortunately, it is very easy to find your routing number for Wells Fargo Bank – once you know where to look.
Routing Number vs. Account Number
Every bank-related financial transaction requires two key pieces of information to identify customers.  Both numbers were assigned when you first opened your account.  They are the routing number and the account number. For example, let's say you need to set up a direct deposit for your your paycheck.  You will need both your bank's routing number and your personal account number for that transaction.
Here's Your Wells Fargo Routing Number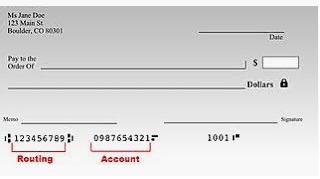 Just grab the checkbook associated with your checking account and look at the bottom of one of the checks. You should see two or three sets of numbers displayed horizontally along the bottom. The first set of numbers on the bottom left of the check is your routing number. It should be 9 digits long.
If for some reason you can't find your checkbook, and want to know your routing number, you can simply view the list below. The Wells Fargo routing number list is sorted alphabetically by location. The location column refers to the place where you opened the account, not where you currently reside.
Wells Fargo Routing Number by State
Below is a list of  the Wells Fargo routing numbers by state in a simple table to make it easy to understand. You can see the routing number for every state that they operate in. For example, the Wells Fargo routing number for Florida – 063107513.  The Wells Fargo routing number for Texas – 111900659 (Note that the routing number for Texas-El Paso is different 112000066).  The Wells Fargo routing number for California – 121042882…etc.
Table of all the Wells Fargo routing numbers by state:
State
Routing Number
State
Routing Number
Alabama
062000080
New Hampshire
121042882
Alaska
125200057
New Jersey
021200025
Arizona
122105278
New Mexico
107002192
Arkansas
111900659
New York
026012881
California
121042882
North Carolina
053000219
Colorado
102000076
North Dakota
091300010
Connecticut
021101108
Ohio
041215537
Delaware
031100869
Oklahoma
121042882
District of Columbia
054001220
Oregon
123006800
Florida
063107513
               Pennsylvania
031000503
Georgia
061000227
Rhode Island
121042882
Hawaii
121042882
South Carolina
053207766
Idaho
124103799
South Dakota
091400046
Illinois
071101307
Tennessee
064003768
Indiana
074900275
Texas
111900659
Iowa
073000228
Texas – El Paso
112000066
Kansas
101089292
Utah
124002971
Kentucky
121042882
Vermont
121042882
Louisiana
121042882
Virginia
051400549
Maine
121042882
Washington
125008547
Maryland
055003201
West Virginia
121042882
Massachusetts
121042882
Wisconsin
075911988
Michigan
09110145
Wyoming
102301092
Minnesota
091000019
American Samoa
121042882
Mississippi
062203751
North Mariana Islands
121042882
Missouri
121042882
Puerto Rico
121042882
Montana
092905278
Virgin Islands
121042882
Nebraska
104000058
American Forces Abroad
121042882
Nevada
321270742
How to Confirm You are Using the Correct Routing Number 
Inspect a Check: For checking accounts, you can find your routing number in the lower left hand corner of the check. It will be the first 9 digits located at the bottom of your check.
Go Online: Wells Fargo has an online form you can fill out to locate your correct routing number and account number. Find it here. Once you log in, you can search for your routing number by typing in "routing number" in the search bar located at the top of screen.
Call Customer Service: Call Wells Fargo at 800-956-4442. After you provide a few specific details to identify yourself, a representative will be able to confirm your account's routing number. https://www.hustlermoneyblog.com/wells-fargo-routing-number/
What Is a Routing Number?
Basically, routing numbers are 9-digit numbers that banks use to identify themselves. Simply, it is like an address that banks and other financial institutions use to locate your money.  You will need your routing number for many tasks such as:
ACH payments
Setting up direct deposit
Receiving benefits from the government, including tax refunds
Transferring money between accounts at different banks or investment firms
Automatic bill payment
Domestic wire transfers
Wells Fargo has branches all throughout the United States and has different routing numbers or "addresses" for different regions.
Banks Can Have Multiple Routing Numbers
A bank's primary routing number is assigned based on the location of its principal office. Banks are eligible to receive additional routing numbers if necessary to keep payments and collections routed properly. Smaller banks and online-only financial institutions typically use only one routing number nationwide. Larger banks might have routing numbers for each state in which they operate.
Some banks have only one routing number, so you might think all routing numbers for Wells Fargo are the same. However, that's not the case. They are separated by state and sometimes region.
Many banks have several routing numbers, especially those with branches in more than one state. Wells Fargo uses separate routing numbers for different regions.  Because some financial institutions have multiple routing numbers, it's important to ensure you're using the correct one before you initiate a transaction.
Different Routing Numbers are used for Wire Transfers
Wire transfers are fast and secure. Because wire transfers are a top priority, they have separate routing numbers so financial institutions can process them differently. International wire transactions require SWIFT codes, which are international bank codes that identify particular banks worldwide.  Here are Wells Fargo's wire transfer numbers:
Domestic wire transfer – 121000248
International SWIFT code – WFBIUS6S
Wells Fargo Wire Transfers
Wire transfers are a quicker way to send money than an ACH transfer. Anyone can wire funds to your Wells Fargo account for a small fee. You can even set up a domestic or international wire from your local Wells Fargo branch.  For an online wire transfer, follow these steps:
Sign onto your Wells Fargo account online.
Select the Wire Money option in the Transfer & Pay menu
Add required recipient details (more on this below).
For Domestic Wire Transfer
You can use the routing number listed above to wire money to other bank accounts in the U.S. To receive a domestic wire transfer, use the routing number 121000248 instead of using your ABA routing number.  Additionally, you will need to have the following information:
The name of the person to whom you're wiring funds (the "beneficiary") as it appears on their account
The name and address of the beneficiary's bank
The routing number of the beneficiary's bank
The beneficiary's account number
For International Transfers
You will simply use the SWIFT code WFBIUS6S. SWIFT stands for Society for Worldwide Interbank Financial Telecommunication and are the international equivalents of U.S. routing numbers. You will also need the following information to send an international wire:
The name of the person to whom you're wiring funds ("the beneficiary") as it appears on their account
The name and address of the beneficiary's bank
The beneficiary's account number
The SWIFT Code of your bank and the bank you are sending to
Currency being sent
Purpose of payment  https://www.hustlermoneyblog.com/wells-fargo-routing-number/
Banking Terms to Know
What's the Difference Between ABA and ACH Routing Numbers?
Technically speaking, ABA routing numbers apply to paper checks while ACH routing numbers apply to electronic transfers and withdrawals. Most major banks today use the same routing number for both. However, it's not uncommon to see separate ABA and ACH routing numbers for regional lending institutions.  ABA routing numbers are sometimes referred to as the "check routing number," and the ACH routing number as the "electronic routing number" or "number for electronic transfers." If only one number is cited, it's likely that the ABA and ACH routing numbers are the same, but it doesn't hurt to contact your bank to make sure.
What's the Difference Between ACH and Wire Transfers?
ACH transfers are automated electronic transfers between financial institutions which are conducted through a third-party clearinghouse. By contrast, wire transfers are direct electronic transfers between financial institutions.
Wire transfers are processed quicker than ACH transfers since they are not cleared through a third party. Wire transfers can be completed within hours or even minutes of when they're filed, while ACH transfers may take a few days. Also, it is considered more secure to send a wire transfer because each bank must verify the transaction before it clears.  On the other hand, ACH transfers usually clear automatically.
Banks typically charge between $15 and $65 to send and receive wire transfers, whereas ACH transfers are generally free. Due to the added cost, wire transfers are best used for essential purchases involving large amounts, or transfers where the funds must arrive in a timely fashion. ACH transfers are sufficient for everyday transactions.
What are SWIFT and IBAN Codes?
Society for Worldwide Interbank Financial Telecommunication (SWIFT) is a code that identifies the bank in an international transaction, just as an ABA or ACH number identifies a bank in a U.S. domestic transaction.
International Bank Account Number (IBAN) identifies your personal account in an international transaction. It's usually the same as your regular account number with a few additional digits added in an internationally recognizable format. If you need to send funds internationally, ask the recipient for the IBAN number of their bank account.
SWIFT and IBAN were both developed to standardize an international identification system for financial institutions. While the United States uses the ABA system of transactions locally, American banks accept and transmit funds using the SWIFT system for multinational transactions.    Source: valuepenguin.com
Which Wells Fargo Routing Number Should You Use?
For domestic money transfer activity – Use the ABA routing number for your corresponding state of your Wells Fargo bank.  It's the same routing number that is printed on the face of your checks.
For any domestic wire transfers – Use the Wells Fargo domestic wire transfer routing number 121000248.
For international wire transfers – Simply use the Wells Fargo Bank SWIFT code WFBIUS6S.
Do Routing Numbers Ever Change?
Yes, routing numbers do change, but not very often. This usually happens when banks merge, consolidate, or acquire other banks.  In the case of a merger, banks give plenty of notice providing instructions and ample time for customers to adjust to a change in routing numbers.  It might seem like an inconvenience, but typically, the old routing number will remain usable for months or even years after a change.  You'll be allowed to use checks with the old number until they run out. If they provide a deadline to stop using old checks, you can always just pick up a free box of new ones.
While this is usually the case, remember to look at and follow the instructions your bank provides if any change in your routing number occurs.  You should also review your bank transactions to find any recurring automatic transactions. If they continue to use the same routing number, you run the risk of your bank eventually no longer honoring the transaction. Reconfiguring these should be your priority in the event of a changed routing number.
Know Your Local Branch Wells Fargo Routing Number
You'll likely need your Wells Fargo routing number when managing your finances. Keep it handy should you need to set up a direct deposit, automatic payment, or wire transfer.
Remember that the routing number on a check might be different from the one you'd use for a wire transfer. You might want to check with your financial institution before you engage in transactions that require accurate routing number information.  If the sequence is off by a single digit, your money could go someplace else.
Your Wells Fargo routing number is essential for purposes of sending and receiving money. There is no harm in writing your routing number down or putting it in your phone so you have it readily available.  It is not a secret number like a password so there is no harm in having it readily available.  If it were a secret number, the bank wouldn't print it on the face of every check, would they?