Discord Screen Share: How to Screen Share on Discord for Phone and Computer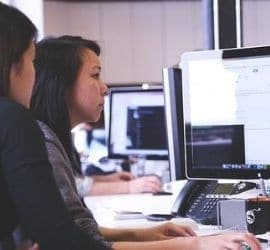 Discord is a full-featured voice and text chat platform that allows you to set up large or small chat servers for your gaming, social, or business groups. However, what a lot of people don't know is that Discord Screen Share offers a complete video calling and screen sharing solution as well.  Discord allows you and up to nine other people on your server to do live video chats while simultaneously sharing desktops. This feature is built right into the main Discord app — there are no additional programs to install.
Screen sharing can be incredibly useful.  This makes Discord a real competitor to other meetings and video calling apps currently available. It has the added benefits of an alternative messaging application that does not pull unnecessary bandwidth while streaming or gaming.  But, best of all, Discord and it's screen share features are free!  Playing video games doesn't have to be a lonely experience, even for single-player games.   Streaming your screen on Discord allows you to talk while you play and involve your audience in what you're doing.  You can show off what great gameplay looks like, or have friends help you in real-time. But first, you need to know how to show them what you're doing.
The Discord screen share feature allows users on your Discord chat server to interact with your screen. The app enables up to ten screen share users at a time.
Discord is a great app that helps users to communicate with others through text, voice, and video calls.  Along with the screen share feature, you can also implement video calling at the same time.  Using the Discord Screen Share feature in doesn't require the installation of any extra software.
How to Use Discord Screen Share
To screen share on Discord Voice, first, enter a voice channel on a server. Once there, you can choose to also share videos or your screen.  If you choose a video, you can switch to showing your screen from within the video call too by clicking on the screen button. Discord will then prompt you to choose which application or screen you want to "go live". You will then begin to share your screen with audio. If you want to screen share with no audio, click on the microphone button in the voice chat to mute yourself. While screen sharing, you can also continue to communicate via text channels.
Typically, up to 10 other people can join your live stream and view what's on your screen.  Due to the Covid-19 pandemic, Discord has temporarily raised this limit to 50. If you want to go back to showing webcam video while sharing your screen, simply click on the video button.
Enabling Discord Screen Share and Video
Select the room in which you want to stream – Open Discord on your Mac or PC, and select the room you want to stream in.
Open the game or application – To stream to a public room with a voice channel you have permissions in, have the game or application you want to stream open. Then, go back into Discord.
Choose the stream button – Discord will detect the application you have running and the icon for it will be at the bottom-left of the screen. Click the "stream" button to the right of the application's icon.
Stream to a channel – Select the channel you want to stream to. If the application showing in the icon isn't the one you want to stream, click "Change" and select from one of the other open applications, or share one of your display screens directly.
Stream to a private call – To share a stream in a private call, instead, start a call. While you're in a call, you'll be offered the "share screen" button in the call options. Click that and select the application or screen that you want to stream in the call.
To start sharing your video in a call, press the  Turn on Camera button in the call panel!  And whenever you want to end your video stream, you can press the   camera button once more to Turn off Camera!  To start sharing your screen, start by pressing the  Share Your Screen button in the call panel!  A menu will then pop up where you can select an individual application window to share (in the Applications option), or you can choose to share your entire screen (by clicking on the Screens option).  Once you've decided which screen to share, press the Go Live button to confirm and start sharing! (Source: https://support.discord.com/)
With Discord's direct message, you can contact friends and share your screen to solve game-related problems.
Call – Call the person that you want to share the screen.
Turn on Screen Share – Click on the "Turn on Screen Share" icon to continue.
Share your screen – A small window will pop-up on the screen and select the stream quality, and then click on "Share" to start the process.
The screen mirroring works smoothly on 720p@30FPS.  However, this function requires good upload speed. Normal screen mirroring doesn't require higher hardware specifications.  However, you are required to have a 1GHz processor, 1GB RAM, and 256MB video memory.
With Discord, you can stay connected to the voice channels and constantly talk to other members. Sharing your screen comes handy when you want to explain your game situation to other players.
Join the voice channel of the server – You can select any one of them. Click on the "Go Live" button to share the screen and start the process.
Select Screens and Screen 1 – A small window will appear on the screen "Screens" and then "Screen 1" to proceed. If you have a connected secondary display, then it will appear on the list and select "Screen 2 or 3" for mirroring it.
The stream is enabled – The stream will begin and connected members and new members can view it.
Remember, voice channel connected users will be able to watch the stream. The live service is not available to watch for everyone on the server.  They have to join manually to watch it.  As a result, there is no need to worry about privacy problems and you can keep it secure at the same time.
What if you don't want to share your entire desktop screen? In that case, you can share one window and keep the rest of the applications & desktop screens hidden from the world.  This customization lets you maintain your privacy without people knowing about what on the desktop.  Yet, you can still share what you need.
Join the voice channel in the server – Then click on the "Go Live" button.
Choose One Window – Select "Applications" and then select one window from the list.
Start the stream – A new window pop-up on the screen and then click on "Go Live" to start it.
How to View a Livestream on Discord
If you want to view someone else's Discord screen share, you can join their live stream.  Of course, this is if you are a member of the same server. To do this, go to the voice chat that they are in and click on their name. If they are currently screen sharing, you should see the Go Live icon next to their name. While in the live stream, you can voice chat with the streamer and everybody else in the voice channel.
You can also join somebody else's live stream while sharing your own screen. Discord lets users switch between multiple Discord screens on the app. However, you cannot view both your own live stream and somebody else's simultaneously.  But, you can quickly switch back and forth between the two.  This allows users to collaborate together on projects from a distance.
How Do I Stream Games on Discord
You can stream games on Discord. However, PC administrators need a decent gaming machine for the process.
Launch the game and stay in the lobby and minimize the window.
Check the game title appearing in the left bottom and click on the computer icon.
Go Live – A window will appear on the screen and then tap on "Go Live" to start the stream.
Begin streaming – A new window shows up on the screen and the stream begins.
Registered users can minimize the video window and browse around normally.  You can monitor the number of people who are watching your stream.
The Discord gaming communication application added a video calling feature.  This lets you share your webcam and microphone on any voice channel. Fortunately, the feature supports Android and iOS mobile operating systems. This means your iPad and iPhone can now support webcam and microphone sharing capabilities.
Select a voice channel – Join any voice channel of your choice.
Enable camera – Tap on the video camera icon located at the bottom left side.
For Apple users – Apple turns off camera function in third-party apps by default, so tap on "Device Settings" to grant permission.
Tap on the Camera button to grant permission.
You are good to go – You are now live and sharing microphone and camera capabilities with everyone.
The video quality is good on a 4G network.  It should also work smoothly on 3G mobile connections as well. Unfortunately, you cannot share your phone screen on Discord as that capability is not yet available. The Discord team should be adding phone screen sharing some time in the near future.
How to use Video Chat in Discord Server
Discord introduced a Video Chat feature in their latest software update. Now, you can communicate with other players, teams, and management using the webcam.
Join the Voice Channel. Make sure you have the role to share your screen and video chat.
Turn on the camera – Find the "Video" option and click on it to turn on the camera.
Verify your visuals are being shared – A new window will show up sharing your webcam visuals.
There are plenty of options available in the webcam player.  You can even pop-up on the window to use Discord separately.  Also, you can mute your microphone, cut off the webcam stream, share your screen right from the player, and disconnect the call. However, you don't have the option to cut off the stream and remain in the voice channel.
If you disconnect the webcam stream, then you will be exited from the voice channel.  If that happens, you can re-join and communicate in voice mode only. A good internet connection is required for the process to work reliably.
Frequently Asked Questions
Can You Use Discord Screen Share on Mobile Devices?
Unfortunately, you cannot screen share using Discord mobile at this time. It is only possible from the Discord desktop app.  However, you can view a live stream from Discord mobile. Also, you can still use voice and video chat on mobile while viewing a live stream.
Does Discord charge to use the screen sharing feature?
No, Discord and all of its features are free.
Final Words about Discord Screen Share
Discord Screen Share is a wonderful feature.  It is especially handy for an avid gamer.
The Discord text to speech function can be a great way to add variety and impact to your text messages. With Discord, you can activate text-to-speech using a simple slash command while typing out your message.  However, you will likely have to enable the feature first, depending on your current user settings.  Also, you should be aware that if others have the feature disabled, they won't be able to hear what you say.
Those who already use Discord know what a useful and fun tool it can be. The app was originally designed with gamers in mind.  But, Discord now encourages communities and group chats to form around pretty much every type of fandom or subject.  The uses are endless – everything from humorous rants to training guides.  This broad usability is great.  Unfortunately, you can run into some communication issues sometimes.  There can be language barriers,  accessibility issues, and recipients disabling the function.  Nevertheless, Discord has text and voice channels currently available.  So now, anyone can give a text channel voice capability.  It's simple to do with the Discord text to speech (TTS) feature. Here's a step-by-step guide on how to enable Discord TTS and make sure it's working.