How to Add Money to Paypal – How to Put Money on PayPal 6 Different Ways (Guide)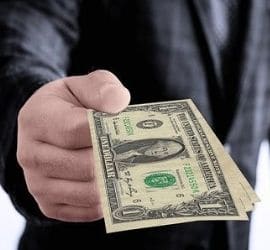 PayPal allows you to make payments online, accept payments online, and transfer money to your bank accounts. You can also add money to your PayPal account balance from your bank account or by accepting PayPal payments.  The easiest method to add money to your PayPal account is using your linked bank account.  There are no fees when you transfer money to PayPal from your bank, and you can always send it back again.  PayPal does not require you to keep money in your account as long as your linked bank account works.  But, a PayPal account with easily accessible cash can simplify and speed up payments.  This guide explains how to add money to PayPal in six different ways.
You can never be exactly sure when a PayPal charge is coming.  Therefore, it's a good idea to leave a cushion of cash in your account. And, it's nice to not worry if there is cash in your account.  Yes, you can immediately send money if you have access to a phone or computer with access to the web.  But, if you want to make sure you always have access to immediate funds, you can top-up your PayPal account by adding some money.   Here's how.
How to Transfer Money from Bank to PayPal 
This method has been around for the longest.  Although it isn't the safest, you probably won't have any issues. If you have any reservations, you can always unlink the bank account when you're finished.  The steps are similar whether you're using the PayPal website or mobile app. First, navigate to My Wallet, then select the option for Link a bank account. You will be prompted to add an IBAN code.  You might need to consult your online banking portal if you're not sure what yours is.
What is an IBAN code?
International System – An IBAN code is an internationally-recognized system of bank accounts.  The system was adopted to reduce the risks involved during money transfers.
IBAN code and codes in various banks are not only used to recognize the branch of the bank and reduce risks involved during money transfers.  They are also used by banks to initiate communication for cross-border transactions.
Thirty-four Digits – An IBAN code is a thirty-four-digit code, which consists of alphanumeric characters. These alphanumeric characters in the code are used to recognize the bank, the domestic bank, the location codes, etc. for the bank.
IBAN code Example – An example of an IBAN code– GB15MIDL40051512341234.
Once you've entered your IBAN, click Agree and link. Next, you will be asked to confirm your bank account. Note that a bank account cannot be tied to more than one PayPal account at a time, or it will return an error message.
How to connect a bank account to PayPal
Log into PayPal.
Navigate to My Wallet.
Click Link a bank account.
Enter the IBAN code.
Click Agree and link.
Follow on-screen instructions to confirm your account.
How to add money to PayPal from a Bank Account
Now that your bank account is ready, it's easy to transfer funds to PayPal. All you need to do is log into the website (or open the app), hit Transfer money, then add money to your balance. After that, select your bank account, enter the amount, and click Add.
Log-in – Log into your PayPal account
Transfer money – Click "Transfer Money" under your balance on the home page.
Add money to your balance – On the next page, click "Add money to your balance."
Enter amount – Enter the amount of cash you wish to transfer from your bank, then hit "Add."
Confirm amount – Click "Add $ (XXX amount)" to complete the transfer.
This is the easiest method, but it isn't the fastest. It can take 3-5 days for the funds to appear in your account, so don't expect to have any funds available before then.
How to Add Money to PayPal With a Debit or Credit Card
You cannot technically add funds to your PayPal account with a debit card.  However, you can put a debit card on file and use it to make purchases or send payments through PayPal. Once you add a debit card to your PayPal account, you can use the PayPal checkout option on websites or send money to other PayPal users without having to enter your debit card information.
Log in to your PayPal account – If you don't have a PayPal account, you can register for a free account by clicking "Sign Up" on the PayPal homepage and following the instructions. Once you log in, PayPal will direct you to your "My Account" page.
Add or Edit Credit Card – Click the "Profile" link, located in the top menu bar of your "My Account" page, then select "Add or Edit Credit Card" from the drop-down menu. The "Add/Edit Credit Card" feature works with both credit cards and debit cards.
Provide card information and billing address – Fill out the fields with your debit card information. The name on the debit card you add to PayPal must match the name that you used to create your account. Select your billing address or enter a new one, then click the "Add Credit Card" button at the bottom of the page.
Confirm your newly added card – PayPal takes you to your "Add/Edit Credit Card" page with a notice to confirm that you have successfully added a debit or credit card.
How to Add Money to PayPal (Without a Bank Account) – Using PayPal Cash
With PayPal Cash, you can add actual cash to your PayPal account at a variety of popular retailers. Unlike other similar cash card services, PayPal is accepted just about everywhere online and you don't have to worry about losing a physical card.
Sign In – Open your web browser and head over to PayPal.com. Select Sign In in the upper right corner.
Transfer Money – After you sign in, you'll find yourself on your PayPal account summary. Select Transfer Money below your current balance.
Add money to your balance – PayPal will take you to a new screen. Select Add money to your balance.
Add cash at store –  Select the Add cash at a store option.
Choose the retailer – You'll arrive on a new page dedicated to PayPal Cash. Use the dropdown menu to select a retail store where you want to add your cash. For now, there are seven retailers, including 7-Eleven, CVS, and Walmart. They're all very common, and you shouldn't have any trouble locating one near you.
Choose a delivery method for your code – This code identifies you and your PayPal account, so the cash will be applied to the right place. Once you continue from there, you'll receive your code via your chosen method. The code is only valid for 48 hours.
Present your code to the cashier – Take your code to any location of the retailer you chose. Present the cashier with the code and explain what it's for. They'll ask which amount you want to apply to your account. PayPal allows anywhere between $20 and $500.
Email confirmation – After you've completed your transaction, you'll immediately receive an email on the address linked to your PayPal account confirming the funds have been added.
How to add money to PayPal with PayPal APP and a Smartphone 
Take your phone and cash to one of the physical locations supported by PayPal. Retailers include 7-Eleven, CVS, and Walmart. It is best to head over to the customer service desk and explain what you want to do. They should be familiar with the process, but please be patient.
On your side, all you need to do is open the PayPal app on your phone, tap the More icon at the bottom, and tap Add Cash. Then, select the store you're at and tap Generate Code. This code is valid for 60 minutes. All you need to do is have the customer service representative scan the code and give them your cash.  In about 15 minutes, the amount (minus the fee) will be added to your PayPal balance and you can get to shopping and spending.
How to add cash to PayPal with a smartphone
Go to the customer service counter of a supported store.
Open the PayPal app on your phone.
Select the More icon (three dots).
Click Add cash.
Select the retailer you're going to use.
Tap Generate Code.
Scan the code and hand over your cash.
In 15 minutes, the money should appear in your account.
How to Add money to PayPal using a check
If you have a PayPal Cash account you can add cash using a check, too. Here's how.
Click the More button on the bottom of the app's home screen
Select Cash checks
Send an image of the check – Follow the onscreen instructions to take a photo of your check and send it to PayPal for verification
If your check is approved, it'll be added to your account for free within 10 days.  You can pay a small fee if you want to expedite the service. The charge for priority service is 1% for government checks with a printed signature.  A 5% fee is charged for all other priority checks, up to a maximum of $5.
Discord is a full-featured voice and text chat platform that allows you to set up large or small chat servers for your gaming, social, or business groups. However, what a lot of people don't know is that Discord Screen Share offers a complete video calling and screen sharing solution as well.  Discord allows you and up to nine other people on your server to do live video chats while simultaneously sharing desktops. This feature is built right into the main Discord app — there are no additional programs to install.