IRS Refund Schedule 2020
Tax refunds are often overlooked as a source for quick cash.  Do you have a refund due in 2020 from the IRS for the 2019 tax year?  Well, the sooner you file, the sooner you can expect your refund.  Sounds pretty obvious, right?  But, when will taxes be refunded?  Scroll down to find the IRS Refund Schedule  for 2019-2020.
The IRS hasn't announced when it will begin processing tax returns for the 2019 tax year.  But, based on past years, they will likely open eFile processing on January 21, 2020.  Many tax programs allow you to file early – they just hold them until the IRS begins accepting them.  For 90% of taxpayers, the IRS issues refunds in less than 21 days.  This was the average time from the date the return was received for the 2018 tax year.
Want an Opportunity to Make Money Online or from Home?


When Can I File My Taxes?
In order to submit your tax return, you first need a W-2 form, or Wage and Tax statement.  You need a W-2 from every employer you had during 2019. If you're a freelancer or consultant, you'll need 1099 forms.
Employers typically must file and postmark tax-related documents by January 31.  Some send them out right away, others take longer.  Either way, you should receive your W-2 or 1099 Forms by early February 2020. However, if you receive all your forms before then, you can file your tax return as early as you like.
The deadline for filing your 2019 tax return is Wednesday, April 15, 2020.  If you have a refund coming, you will not want to wait until the last minute.  By filing early, you can receive your refund sooner and put those funds to better use.
If you haven't received your form by mid-February, you should first contact your employer and request a copy or ask that it be re-sent. Employers are supposed to send out W-2 forms by Jan. 31, 2019, but this doesn't guarantee the every one of them will. Reach out to your employer and request a copy or a duplicate copy if you haven't received yours. If that doesn't work, you can then contact the IRS about a missing W-2 Form.
IRS Refund Schedule for 2020
The folllowing chart is based on best estimates for when taxes will be refunded.  This is based on E-Filing, not paper returns that were mailed using the US Postal System.  Although only an estimate, the information should be accurate for about 90% of taxpayers expecting a refund in 2020.
How to Get your refund ASAP – IRS Refund Schedule 2020
If you want or need  your refund right away, don't mail a paper return. Refunds from paper returns can take six to eight weeks to process.
Do it Electronically – E-File Your Taxes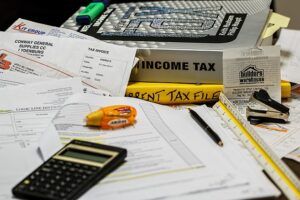 Filing your return electronically ("e-filing") lets the IRS streamline your refund process. The refund is issued within 21 days in most cases.  Also, you really don't want to wait for a paper refund check to find its way through the U.S. Postal Service. To get your refund as soon as possible, choose direct deposit so the money goes right into your bank account. The IRS will notify you when it gets your return, when it approves your return and when your money is on the way.
How to E-File Income Tax Return
E-File is the term for electronic filing your income tax return over the Internet to the IRS. It's simple and efficient and has become increasingly popular since it was introduced in 1990.  Taxpayers can utilize the e-file system through a paid tax preparer such as a CPA.  There are also many other e-file providers accepted by the IRS and the state.  Over 90 percent of federal taxes are now filed electronically. What are you waiting for?