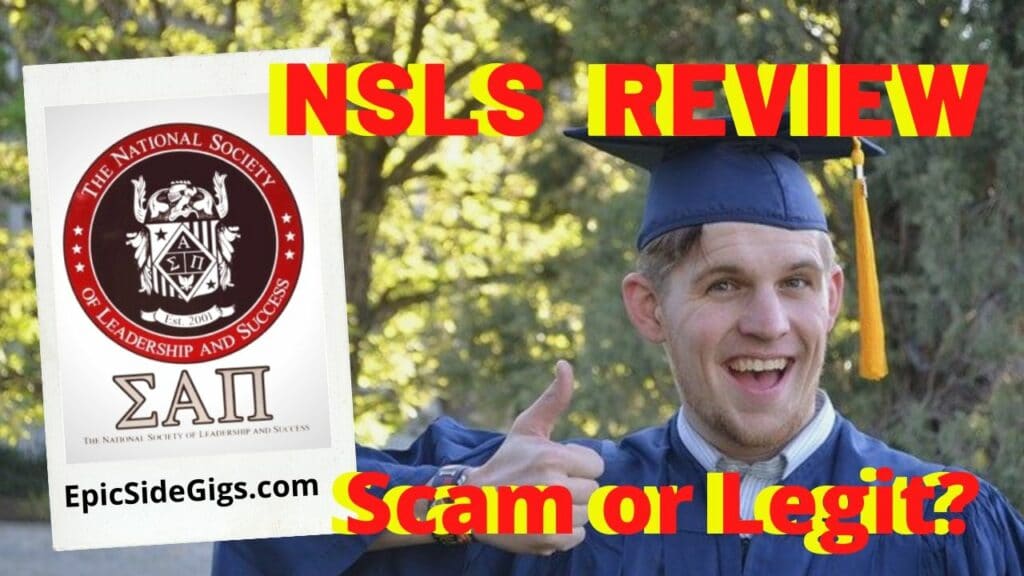 The NSLS claims to be the nation's largest leadership honor society.  But is this organization as prestigious as it claims to be? Well, it depends on what you're looking for. It's tricky to evaluate and measure in quantifiable terms. If you're looking for something to namedrop on your resume or in an interview, it may not have much clout.  However, it can be a way to acquire leadership skills as well as access to scholarships from an accredited organization outside of your college.
So, about the National Society of Leadership and Success – is it Legitimate or Not?
What is the National Society of Leadership and Success (NSLS)?
The NSLS was founded in 2001.  The National Society of Leadership and Success describes itself as a leadership honor society.  Also, it claims to be the largest of its kind in the U.S. with 800 chapters and more than one million members nationally.
By its own admission, it is an organization that "helps people discover and achieve their goals".  The NSLS posits that candidacy is a nationally recognized achievement. Nominations go to college students distinguished for "either academic standing or leadership potential".  What that means is –  a minimum GPA of 3.0, with the option for schools to be more selective, if they choose.
There are benefits of membership.  Thes benefits include:
Lectures on leadership
Opportunities for exclusive scholarships
Participation in exclusive events
Discounts with partnered companies on books, computers and test-prep courses.
The NSLS is, in part, a training program for young leaders.  It requires a series of steps and leadership courses to complete after registration and before induction. This is unlike many other Honors Societies.  Members must complete the following requirements to be considered inducted members:
Orientation
Networking Meetings
Leadership Events – either on-campus or online.
In general, students take two to three semesters to get through the induction requirements.  These steps take about 14 hours total, plus an additional six hours of community service.
The NSLS offers leadership conferences and educational courses targeting personal goal work.  Some inductees report they have benefited from the leadership resources.  These resources have been compared to motivational speeches and TED talk-style videos. The organization also offers scholarships, with $350,000 earmarked for 2019-2020. According to its site, $2 of every membership fee goes toward scholarship funds.
However, the burning question remains – is this organization as prestigious as it claims to be?  Ultimately, It depends on what you're looking for.  It's tricky to evaluate in tangible, black-and-white data points. It is an accredited organization, whose membership you can namedrop on your resume. But, it may not have much clout on a resume or in an interview.  However, it IS an avenue for networking and gaining leadership.  It also gives you access to scholarships from an organization outside of your college. NSLS works with both two and four-year colleges.
Who is The National Society of Leadership and Success (NSLS)? – The NSLS is the nation's largest leadership honor society.  Students are selected by their college for membership based on either academic standing or leadership potential.  Candidacy is a nationally recognized achievement of honorable distinction.  With 712 chapters, the NSLS currently has 1,184,975 members nationwide.  In addition to honorable distinction, the NSLS provides a step-by-step program for members to build their leadership skills through participation at their campus or online.

Upon completion of the program, members receive their leadership certificate and take their place among the top student leaders at their campus and across the country.  Members are able to list their affiliation on all statements of personal accomplishment, including their resume.  Membership provides access to benefits including scholarships and awards, exclusive on-campus events, employer recruitment through an online job bank, and discounts on computers, textbooks, grad school prep courses, insurance and much more.   Source: https://www.nsls.org
Is the National Society of Leadership and Success a True Honor Society?
The answer is – yes, and – sort of, depending on who you ask.
The organization is a 501(c)(3) nonprofit, as well as a certified B-Corp – "meeting the highest standards of verified social and environmental performance, public transparency, and legal accountability to balance profit and purpose," according to B Lab. The NSLS is also an accredited organization by the U.S. Department of Education.
However, if you dig a little deeper, you will find that NLSL is NOT certified by the Association of College Honor Societies (ACHS).  The ACHS was founded in 1925 to distinguish reputable honor societies from those with less proven benefits.  The ACHS certifies many of the top National Honor Societies.  It measures an organization's academic standards, such as G.P.A. qualifications and certification of chapters, as well as membership policies and purpose.  The fact that NLSL is not certified is a cause for question, at the very least.
Interestingly, the NSLS is accredited by the US Department of Education.  The ACHS, however,  is not accredited by the Department of Education.  Make of that information what you will.
Building Leaders Who Make a Better World  – The NSLS is an organization that helps people discover and achieve their goals. The NSLS offers life-changing lectures from the nation's leading presenters and a community where like-minded, success-oriented individuals come together and help one another succeed. The NSLS also serves as a powerful force of good in the greater community by encouraging and organizing action to better the world.  The guiding question we established to shape all the important decisions the organization makes is: "Are we helping the greatest number of people in the greatest way?" When asked how he might sum up the key thing that the NSLS does, founder Gary Tuerack shared, "We are dream supporters – we build leaders, support people in achieving their dreams, and better the world in the process. We get people to ask the all-important question, 'What would you do if you knew you couldn't fail?' and then help them to achieve those goals."
What is the Purpose of the National Society of Leadership and Success?
The NSLS exists to recognize, cultivate and honor young leaders.  This is according to its mission statement.  Much of the focus of the NSLS seems to be on inducting and influencing students to be effective leaders.  This is a departure from traditional honor societies that exist primarily to recognize high academic achievement.  The two actually compliment each other.  The first with a focus to mold leaders.  The latter, acts as a status symbol of sorts, flaunting extraordinary academic achievement after the fact.
Like most social endeavors, joining an honor society can be what you make it.  Joining the NSLS does not look to be  a move that will hurt you. Once you join, you have lifetime access to membership benefits.  However, extra leadership courses will probably cost extra once you graduate.  From the NSLS website:
NSLS History & Founding Principles  – The NSLS is founded upon the core beliefs that one can achieve one's dreams with the proper support and dedicated action, and that we accomplish more together than we would achieve alone. It began with founder Gary Tuerack's vision of creating a community where like-minded, success-oriented individuals could come together to learn from and support each other.  As a child, Gary was an extremely slow reader and struggled in school. In order to overcome this difficulty, he learned strategies to increase his reading speed, concentration, memory and grades. He went on to become an Ivy League graduate. Inspired by his ability to set "unrealistic" goals with focused action and support, he dedicated the next decade out of college helping college students to achieve the success they desire.

Benjamin Franklin once said, "Many people die at 25 and aren't buried until 75." People don't go after their dreams because they don't believe they are possible. The vision of the NSLS was inspired by the passion of helping people wake up and believe in their own potential that they might not be seeing yet.  The National Society of Leadership and Success was founded with the sole purpose of creating lasting positive change. Beginning with a handful of chapters, the NSLS now reaches hundreds of thousands of students at hundreds of chapters around the world. The NSLS encourages community action, volunteerism, personal growth and strong leadership from its chapters and members.   Source: https://www.nsls.org/about/history
How much does it cost to Join the National Society of Leadership and Success?
You pay a one-time $85 registration fee to join the NSLS.  This grants you lifetime access to membership benefits. This fee is not out of line with what most honor societies charge in initiation fees.  For instance, it costs $80 to join Mortar Board and $95 to join the National Society of Collegiate Scholars.  Both are nonprofit scholastic organizations that are accredited under the ACHS.
When joining any society, the price is not the sole criteria with which to judge.  And let's face it, $85 bucks is not going to break the bank.  You need to focus on the return you expect from not only your money, but your time and effort.  Do your research and talk to other members.  Always do your homework and due dilligence to ensure your time and money pays off.
The NSLS Frequently Asked Questions
WHY WAS I INVITED TO JOIN THE NSLS?
Nomination criteria is determined by the local chapter leaders.  It is typically based on GPA and/or leadership potential. Students invited to their school's chapter have earned distinction with their nomination.  However, they must still fulfill the leadership program requirements to complete the induction process.   "Students accept their nomination to become recognized as members of the NSLS. However, to achieve induction members must attend Orientation, Leadership Training Day, 3 Speaker Broadcasts and 3 Success Networking Team meetings.  Once members have completed the steps above, they will be formally inducted as a full member. After completing the steps towards induction, you will receive post-induction benefits including Certificate of Leadership Training, NSLS Insignia Pin, and Sigma Alpha Pi T-Shirt awarded to you at your chapter's induction ceremony."
I DID NOT RECEIVE AN INVITATION. CAN I STILL JOIN?
You can apply for membership by completing the nomination process online. The nomination process requires the recommendation of at least one faculty member, and can be completed entirely online. If you have any questions about this, please do not hesitate to contact the National Office. If approved, you will receive a nomination code to join and will be considered a pre-inducted member of the organization.
WHAT ARE THE BENEFITS OF JOINING THE NSLS AND WHAT DOES MY MEMBERSHIP FEE COVER?
When you join some organizations, the information focuses only on the material, the tangible benefits. The items in your membership kit are nice things that demponstrate your membership. But they are definitely not the real value you gain from seeking and achieving membership.   The intangibles that you gain will drive your future and establish you as a leader among your peers.  They include:
Improved self-esteem
Peer leadership skills
Sustainable motivation and drive – paradigms that will help you discover and achieve your dreams, real world skills that will help you outperform your peers in the workplace, and an
Enviable network of movers and shakers – that are all a part of the drive to create lasting positive change in the world.
Online resources on our website
Customized letters of recommendation for prospective employers or graduate schools
Graduation accessories that you may purchase and wear at your graduation to display your membership in our organization,
Access to exclusive scholarships and awards, Success Coaches and our entire Keynote speaker series.
WHAT IS THE REFUND POLICY?
Members have 30 days from the date of enrollment to determine if the NSLS is a good fit for them. During this period of about 1 month, students have the opportunity to enjoy all the benefits of membership.  This includes access to the leadership programming, partner discounts, an exclusive online job board, and access to apply for scholarships and awards. If for some reason the member finds that the NSLS is not for them, they have the option to request a full refund. After 30 days the refund period expires and the eligibility window closes.
Sources: Source: https://www.nsls.org, https://fairygodboss.com/