Twitch Stock and the Game Streaming Ecosystem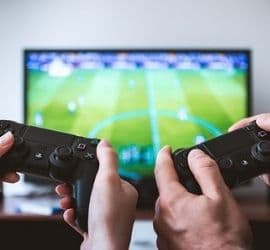 Would you rather play a video game by yourself, or play it to an audience? With video game live streaming services, you can turn your hobby into an interactive performance you can enjoy with family and friends. If you become popular enough, you may even be able to earn a living from your broadcasts. But, even if you're camera-shy, these same services provide plenty of great ways to watch live streams of other video gamers. Live streaming is the biggest thing happening in the gaming world right now.  As a result, there's no better time to get on board. However, with several options to choose from, which service should you devote your resources to? Streaming via Twitch is a popular choice, but there are other worthwhile services. Is Twitch stock the only way to go?
The next big evolution in the video game market is expected to be streaming over the internet.  It allows play to proceed on a variety of widely-used devices without the need for specialized hardware.  The video gaming market represents $36 billion of annual revenue, per Fortune. Success in video game streaming is likely to rely on three main factors:
Variety – The quality and variety of games on offer,
Infrastructure – The cloud-based technical infrastructure necessary to support game playing.
Versatility – The choice of devices that can be used.
Services that allow game playing on common devices will appeal to a broader market.  Devices such as personal computers, TV sets, notebook computers, and smartphones.  The service that eliminates the need for specialized hardware such as game controllers will have a decisive competitive advantage.
Twitch Stock and the Key Players in Gaming Streaming
Twitch Stock – Amazon owns Twitch stock, a leading online meeting place for gaming enthusiasts and a leading place to watch live gaming. Amazon spent $1 billion in cash in 2014 for Twitch, outbidding Alphabet.    Amazon is a major video streaming provider through its Prime Video service.
Microsoft has announced that its Project xCloud service will become available to the public sometime in 2020. The company released a demonstration video in Oct. 2018 and their well-established Xbox gaming division should give them a competitive lead. The 2020 rollout covers 22 countries across North America, Europe, and South Korea, and gives players access to more than 100 games
Alphabet – Ran "impressive" tests of game streaming to ordinary computers. Alphabet is experienced in streaming through its YouTube service.  It recently tested a video gaming service called Project Stream. Rather than requiring special gaming hardware such as Xbox, this test used ordinary computers both with and without Bluetooth controllers.
Apple – Is reportedly testing a subscription service to run on its devices. Apple is the maker of the Apple TV, the iPad, and the iPhone.  Also, very experienced at streaming with iTunes.  Apple might see video game streaming as a logical extension. However, to make its service popular, it would need to work with game publishers to provide game content.
Verizon – Currently uses specialized gaming devices.  Verizon offers a large library of video on demand to subscribers of its Fios TV service. Tests of its own game streaming service reportedly have utilized Xbox and Nvidia Shield devices.
Sony – Is the makers of PlayStation gaming hardware.  They have been offering the PlayStation Now streaming service for five years.  It has not become a huge hit, maybe because it streams older games without enough new offerings.
Sources: Business Insider, Fortune
Twitch Stock
Streaming services are about more than just technology. They must also grow and cultivate a community of avid fans and game creators. Chat customization options currently let broadcasters tailor the way they interact with their audience.  But the larger social presence of the platform enhances the experience.
Obviously, each of these communities is primarily made up of video game fans, but that doesn't mean their cultures are entirely identical.  The service most synonymous with game streaming is Twitch.  And, its community is the most robust. Twitch members are the masterminds behind famous live streaming experiments like Twitch Plays Pokemon and the Bob Ross marathon. Twitch also has a lot of corporate support, so you're likely to find plenty of officially sponsored video events on the service from big publishers and other game-friendly companies. (Source: sea.pcmag)
China's Version of Twitch Stock – Huya Stock
Founded in 2014 as a business unit within JOYY, Huya was spun off in 2018.  It has since grown into a leading video game streaming platform in China with 168.5 million monthly active users (MAU). Revenue surged more than tenfold over the last three years to $1.15 billion in 2019, making it the largest live-streaming platform in China. It also reported its first annual profit of $67.2 million in 2019, thanks to its expanding margins.
Huya Stock Growth Opportunities?
The numbers indicate that Huya is capable of growing quickly and profitably. There is also strong potential behind the company's business model, which generates additional income from selling virtual goods.
Moreover, as Huya continues to grow its business (more on this later), it could leverage its economies of scale to improve its margins. In other words, it could advance net profit at a faster pace than revenue in the future.  Despite its strong track record, there are good reasons to believe that Huya's best days lie ahead.  To start, the esports industry in China is rapidly growing. According to market research firm Frost & Sullivan, China's esports industry could reach 537 million gamers by 2022. That growth benefits the video game streaming market in China, which is projected to grow from $1.2 billion in 2017 to $4.9 billion in 2022 at a compound annual growth rate (CAGR) of 34%, and Huya is one of the biggest players in the space with an estimated market share around 30% to 40%. (Source:fool.com)
Twitch Stock – Frequently Asked Questions
Who Owns Twitch Stock?
Twitch stock belongs to Amazon Com, which is listed on the New York stock exchange. The Twitch sector is Consumer Cyclical.  Twitch is a live streaming video platform and community for gamers and fans alike; it was bought by Amazon in 2014.
Is Twitch Stock profitable for Amazon?
I guess the question boils down to how much revenue Twitch generates? Amazon doesn't disclose how much revenue Twitch generates, and it's unclear if it's even profitable. But at the time of its acquisition, Vox estimated that Twitch generated at least $72 million in annual sales, with most of that revenue coming from ads.
Who Owns Huya Stock?
JOYY owns YY Live, a leading live streaming social media platform in China.  JOYY holds non-controlling interests in Huya, the leading game live streaming platform in China. In addition, JOYY Inc. completed the acquisition of Bigo in March 2019.
Final Thoughts 
Game streaming is an emerging market.  In every new market, a big question is whether the first big innovator and early leader will be able to maintain that lead.  Or, will later entrants learn from the leader's mistakes and eventually overtake it. Another question is where is the ultimate power, and thus the most profits?  Will this power be wielded by the content providers or with the streaming infrastructure providers? Another uncertainty is whether deep-pocketed players such as Amazon, Microsoft, Alphabet, and Apple will seek to acquire game publishers.
A loan shark is a person or an entity that loans money at extremely high-interest rates.  They often use threats of violence to collect debts. The interest rates are generally well above an established legal rate.  And, often loan sharks are members of organized crime groups.
Loan sharks charge borrowers interest usually far above any established legal rate.  You should avoid them.  Even in a serious cash crunch, there are safer alternatives.