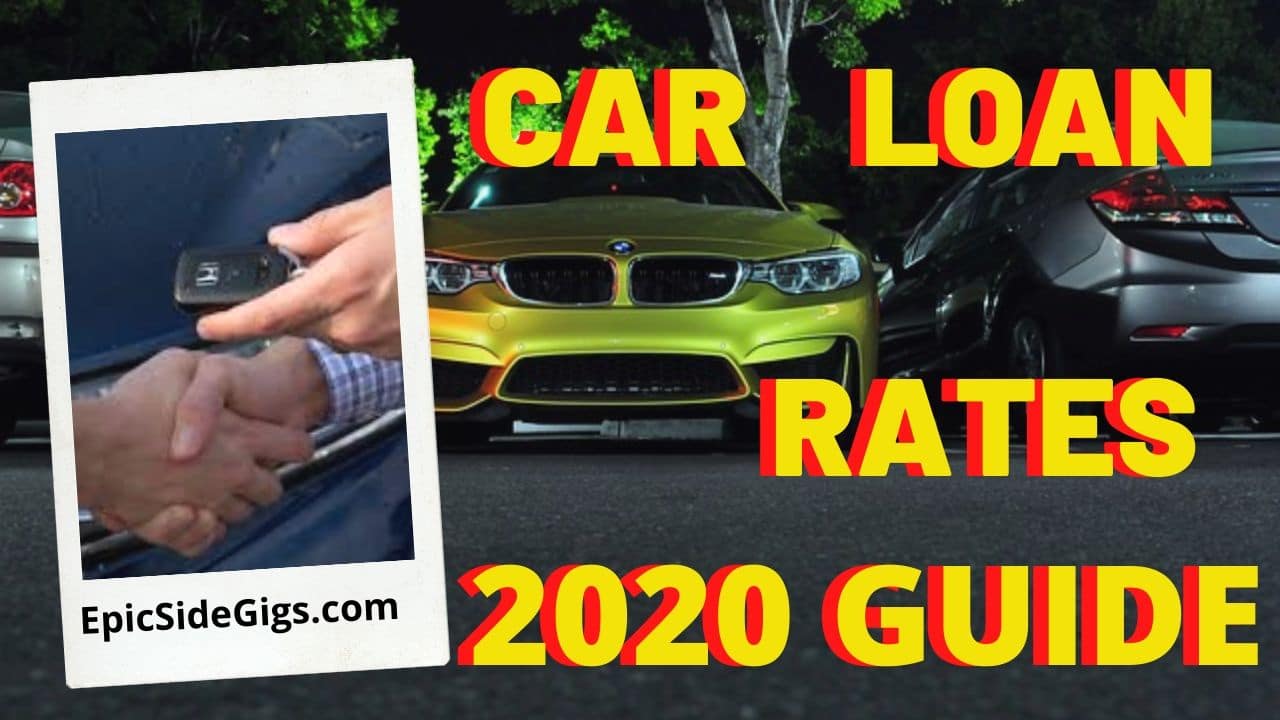 Car Loan Rates – 10 Best Auto Loan Rates (Guide for 2020)
Finding a great new car, truck, or van can be an exciting experience. But, the whole process can be confusing with so many choices and information overload.  Ultimately, there comes the time to pay for that car.  This is where things can go from confusing to downright frustrating. Many buyers are so ready to drive their new car home that they sign the first loan that they can get their hands on.  They often do this without any idea of the best car loan rates that are available.
Signing the first loan agreement you find may get you behind the wheel quickly.  But, it could set you back financially. In fact, if you don't find the right loan, you could overpay by thousands of dollars over the life of the loan. This is true whether you're buying a brand new car, something previously owned, or refinancing an existing loan, it's essential to find the best car loan rates possible. Here are the 10 mbest lenders or loan brokers worht looking at before you buy your next car.
Best Car Loan Rates: Lenders
LightStream – Best with Good Credit
Bank of America – Best Big Bank
Capital One – Best Big Bank
Carvana – Best total Online Experience
MyAutoLoan – Best for Average Credit
LendingClub – Best Online Platform
Consumers Credit Union – Best Overall auto loan rates
Oportun – Best for Bad Credit
OpenRoad Lending– Best for Refinancing
LendingTree – Best for Shopping Around
1 LendingTree Car Loan Rates
LendingTree is a loan connection service.  They may be able to connect you to one of its trusted lending partners with a single online form. They may also be able to help you find an auto loan with competitive rates via the online marketplace. Letting the LendingTree platform do the heavy lifting means you can spend more time comparing offers.  This greatly improves your chances of getting one within your budget. However, be prepared for phone calls and emails from lenders, even after you've taken out a loan.  LendingTree makes money by sharing your information and auto loan needs with its network of lenders. It may also get a commission when you ultimately choose a lender and sign a contract.
Compare Auto Loan Rates
LendingTree allows you to compare a wide variety of auto loan providers in one place.  This includes potential offers for refinancing, new car purchases, used car purchases and lease buyouts. After inputting your information, you can see live rates based on the day's market. Even if you aren't financing a car through LendingTree, it's a great way to learn what to expect before negotiating with a dealer.  LendingTree does't offer auto loans directly. It's an online marketplace that can connect you with lenders offering different kinds of car loans. You may be able to get a loan for a new or used car or to refinance your current auto loan at a lower rate. You can also find financing to buy out a lease.  Loan amounts, rates and terms can vary by lender.
The car loan rates you find depend on the lender, the type of car loan and the loan term. Rates on new car loans typically start at 3.09%. Used car loans tend to come with slightly higher APRs, starting at 3.99% APR.  Generally, the longer the term, the higher the rate you'll pay. Choosing a 36-month term comes with the lowest rates.  Longer terms, like 60-72-months are more expensive.  Source: finder.com
2 LightStream – Best Auto Loan Rates with Good Credit
LightStream is a division of SunTrust Bank.  They offer auto loan options for every type of deal you can imagine.  This includes new cars, used cars from a dealer or private seller, lease buyouts and even classic car financing.  In general, LightStream is a great option for those with good to excellent credit.  According to Experian, the average car loan is just under $32,000, with most people choosing a 60- or 72-month auto loan term.  LightStream is able to fund your loan the same day you apply, pending approval. It offers loan amounts from $5,000 to $100,000, and even has a Rate Beat Program.  They will be beat a competitive APR (depending on certain terms and conditions) by 0.10 percent.
Good Credit Required
LightStream provides a good car loan if you have credit. Overall, LightStream's APR range is better than those of a few rivals. Starting at 3.99%, LightStream has some of the lowest interest rates available – better than many of its rivals.  However, LightStream's interest rates are less competitive if you choose to receive invoices by mail. To lower your rate by half-a-percent, just sign up for the automatic billing and payment system.  LightStream also has a significantly longer loan term limit than most other competitors. While most other auto loan terms max out at six years, LightStream's auto loans are available for up to 12 years. Additionally, SunTrust does not charge any fees or penalties for early payments. You can log in to your online account to make an early payment or extra loan payments at any time.
You are unlikely to qualify for a LightStream auto loan if you have poor or fair credit, a short credit history, or little variety in the accounts attached to your credit. Consider other auto lenders if you have blemishes on your credit.  There are other lenders who are more lenient towards lower credit scores. However, those loans are likely to carry much higher interest rates than LightStream's.  Source: usnews.com/lightstream-auto-loan-review
3 Bank of America – Best Overall Big Bank
Bank of America offers financing beginning at $5,000. However, not every car is eligible for an auto loan. BofA requires that the car be no more than 10 years old. Additionally, no more than 125,000 miles and valued at no less than $6,000. Financing is available in all 50 states and the District of Columbia. For a 60-month term, Bank of America's APR starts at 3.39 percent for a new car and 3.59 percent for a used car.  You may qualify for a Bank of America loan as long as you are at least 18 years old and a citizen or permanent resident of the US.
BofA lets you Consolidate all Your Finances
Bank of America has a simple three-step process that can put your loan funds into your account in a matter of days. It could be a good option if you're looking to keep all of your finances in one place.  Checking account holders can qualify for an interest rate discount of up to 0.5%. Bank of America has auto loans for a wide range of cars and refinancing. You can borrow anywhere from $5,000* to $100,000, and for borrowers with good to excellent credit, you may see your APR as low as 3.39%. Its car loans include:
New car loans
Used car loans
Private party car loans
Refinancing
Lease buyouts
4 Capital One
Capital One is a good auto loan company that offers competitive rates and flexible loan terms.  You can choose to pay off your vehicle in just three years, or up to five or more years. Income requirements start at just $1,500 per month.  There are no application fees or prepayment penalties associated with loan payoff.  Capital One will let you borrow as little as $4,000.  But, it requires you to purchase the car through one of their participating dealers. They have an Auto Navigator site, which lets you search for inventory in your area.  This gives you the ability to see how different makes and models, and different features, will impact your monthly payment.  The Navigator provides a lot of information before you head to the dealer. Also, the quick pre-qualification is through a soft inquiry so your credit score won't be impacted.
Auto Loan Rates for Variety of Credit Scores
Applicants with the highest credit scores get the lowest interest rates on auto loans.  However, Capital One Auto Finance offers a variety of interest rates to borrowers across the credit spectrum. These are generally broken down into a few categories: excellent, average, and rebuilding. The benchmarks for these categories aren't exactly the same at every lender, however.  "Excellent credit" generally translates to a credit score in the range of 781 to 850. Shoppers in this category may see new-car loan rates as low as 3.99% from Capital One, and used car loan interest rates as low as 4.62%.  Most lenders consider an average – also known as "prime" – credit score to fall within the range of 661 to 780. Borrowers in this category could see new car loan rates as low as 4.22% from Capital One, and used car loan rates as low as 5.92%.
Most lenders consider scores of 660 and below to fall into the rebuilding category. Scores in this range may also be referred to as nonprime or subprime. Shoppers in this category could see new-car loan rates of between 7.99 and 10.2%, and used car loan rates of between 9.19 and 13.97%.  These rates were found using Capital One's auto financing calculator and are for illustrative purposes only. The rates on this page are accurate as of the date of this publication and we do update them regularly. Auto loan rates fluctuate over time, so you may see different rates as you shop for an auto loan. The rates you qualify for may differ from these depending on factors like your credit history, income, and selected loan terms.  Source: usnews.com
5 Carvana
Carvana is trying to revolutionize car shopping. By providing a way to shop for a vehicle from the comfort of your home.  The online experience frees up time and effort that would otherwise be spent going from dealership to dealership to kick tires.  Also, Carvana is a great option for those with poor credit. The only credit requirements are that you must be at least 18 years old, make $10,000 or more in yearly income, and have no active bankruptcies.
Once you pre-qualify, Carvana does not make a hard inquiry on your credit, so your credit score won't be impacted.  A hard inquiry is only made once you place an order.  After you are prequalified, you have 45 days to make a purchase from Carvana's inventory.  Then, you can either pick up the car, have it delivered to you, or travel to where the car is located, and drive it back. Currently there are just over 11,000 cars in their inventory.
Loans Available for Carvana Inventory
Carvana offers car loans only for autos in its own inventory. The loans they offer work just like loans you'd get from a bank or dealership.  However, the platform provides a convenient way to keep your whole purchase on one website. The exact amount you can borrow depends on your finances, credit and the car you want to purchase. Loan terms range from 36 to 72 months.  When you apply, you are given an estimated down payment amount under the car's price.  You are also shown how taxes and registration will affect the total price.
You can also trade in an existing car, if you currently own one.  This can cut a large chunk out of the final cost of your new car.  You can't use Carvana financing to buy a car outside of its website. But, if you find a car you'd like to buy on Carvana, you may be able to use another lender for financing if Carvana's options don't meet your needs.  While the minimum and maximum APRs are not stated outright, you can use Carvana's auto loan calculator to estimate your rates.  The car loan calculator feature is located on their website.  Source: finder.com
6 LendingClub
LendingClub Auto Purchase Loan is a marketplace lending platform founded in 2007 and based in San Francisco, CA. An Auto Purchase Loan is available in 50 states, and Washington, DC.  Auto Purchase Loan amounts start at $5,000 and go up to $55,000.  Fixed APR auto loan rates range from 2.24% APR up to 24.99% APR.   Obviously, rates can vary depending on several factors including your credit score and employment.
LendingClub has auto loans with repayment options ranging from 12 to 60 months.  Longer repayment allows borrowers to take on larger loan amounts while keeping monthly payments more affordable. However, the longer the term of your loan, the more interest you will pay.   LendingClub Auto Purchase Loan does not charge a loan origination fee.  A loan origination fee is what some lenders charge for processing, underwriting, and funding a loan. Typically fees range from 0.5% to 5% of the loan amount. Whenever possible, go with lenders that don't charge origination fees.  Source:  supermoney.com
7 Consumers Credit Union
Consumers Credit Union makes the process of getting an auto loan more personal than with most other lenders. All borrowers are required to speak with a loan representative after applying to make sure it's a good fit.  Rather than a minimum or maximum amount, your loan ultimately depends on the cost of your car.   CCU lets you finance a new car or refinance an existing auto loan. The rates and terms you ultimately qualify for depend on the age of your car along with other factors. Loan terms range can extend up to 15 years , with the lowest rates being offered for loans with shorter terms.  CCU can also finance boats, RVs and motorcycles, and additional features can be included to tailor fit your loan.  Add-ons include mechanical repair coverage and roadside service if your vehicle breaks down.
Consumers Credit Union is a good fit for borrowers who want flexible loan terms and like the services offered by a credit union.  They offer an array of auto loans to a wide range of potential borrowers, though you'll have to become a member to get a loan. The lender refinances existing auto loans and provides purchase loans for new and used cars from both dealers and private parties, as well as other types of vehicles.  Consumers Credit Union is a good fit for those who:
Have fair or good credit: The credit union will lend to those with scores as low as 640.
Want flexible loan terms: Loans can be as small as $250 and as brief as six months.
Are serious auto loan shoppers who don't mind a hard credit pull to see rates  Source:nerdwallet.com
8 MyAutoLoan.com
If you want to compare multiple loan offers, MyAutoLoan.com is a great option.  After filling out a single, online loan application, you'll be given four quotes from different lenders. To qualify, you must be at least 18 years old and have an annual income of $21,600.  You will need a FICO score of 500 or greater, and be purchasing a car with less than 125,000 miles, 10 years old or newer. By comparing multiple auto loan offers at once, you can pick the one with the best interest rate.  You can select loan terms and conditions that work for you without having to shop around.
Good Auto Loan Rates for Average Credit
MyAutoLoan is good for average credit borrowers, getting quotes from multiple lenders.  The platform solicits offers from numerous lenders on your behalf. It matches borrowers to a wide range of auto loans.  These include new and used car dealer purchases, private party purchases, refinance loans and lease buyout loans.  MyAutoLoan is a good fit for those who:
Want to see multiple loan offers after filling out only one loan application.
Have average credit scores. Shopping around for the best rate is especially important if you don't have good credit.
Are serious auto loan shoppers who don't mind a hard credit pull or the possibility of being contacted by multiple companies.
The best rates offered by MyAutoloan will only be available if you have very good credit. Lenders can set their own requirements, but excellent credit is generally considered 720 or better, while 690 to 719 is good. The average score of myAutoloan customers is 628 for purchase loans and 602 for refinance loans.  Keep in mind that with average or below-average credit you won't get the lowest interest rates, which means your monthly payment and total interest paid will be more. If you know your credit score, you can get an idea of the rate you might qualify for.  While casting a wide net with your application can help you find the most competitive rate, having your information shared with a large number of lenders means you could be contacted by dealers and lenders trying to get your business.  Source:  nerdwallet.com
9 OpenRoad Lending
Founded in 2009, OpenRoad Lending specializes in auto refinance loans, but also offers an assortment of car-related financial products.  Refinance applications do require a Social Security number, but the company will only do a soft credit pull to provide you with a rate quote. In this way, your credit score won't be lowered, to provide a rate quote, says Don Chapman, the company's chief marketing officer.  Keep in mind, your final interest rate can sometimes change, since that depends on verification of your car's value. OpenRoad Lending works with several banks, credit unions and lending institutions to secure the lowest interest rate for a customer,
OpenRoad Lending is good for applicants who want to refinance after recently improving their credit scores.  They refinance auto loans for a full spectrum of borrowers with poor to excellent credit.  The company is a good fit for those who:
Have improved their credit in the past six to 12 months.
Like a rate quote without a hard credit pull. (Its lending partners may use a hard pull, though).
Want access to a car buying service and other auto-related products.  Source: nerdwallet.com
10 Oportun
Oportun is an online and storefront lender that makes small loans to low-income consumers with no credit history or bad credit due to limited credit history. Common reasons for getting a loan include paying for auto repairs, covering temporary cash shortages and paying off higher-interest debt.  Oportun calls itself an alternative to traditional payday lenders, which make quick, high-interest loans to borrowers with low credit scores and allow rollovers, often leading borrowers into a cycle of debt. 
However, Oportun's rates are lower than payday rates, it does not allow rollovers, and it emphasizes building credit with its loans. It considers borrowers' income and expenses, and loan payments are typically around 5% of a borrower's monthly income.  That 5% threshold is recommended by consumer advocates as an upper limit of affordability for most borrowers.  Still, an Oportun loan is an expensive form of credit when you need quick cash. It should be considered as a last resort after you've exhausted other options.  Source: nerdwallet.com
Car Loan Rates – Car Payment Calculator
Calculate Monthly Car Payments
Car Payment Calculator – Before you apply, use this auto loan calculator to estimate your monthly payment. It's recommended that your car expenses not exceed 20% of your take-home pay. Once you apply, you can use the calculator to compare loan offers.
How Auto Loans Work
Most people need to borrow money to make a major purchase, like buying a car.  Unless you have saved enough money, you will need to finance your new or used vehicle purchase through an auto loan. Also, most consumers will make a down payment on the car, or trade-in an existing car.  They will then finance the balance with a car loan. After that, monthly payments are made to the lender until the car is paid in full.
Auto loan terms can vary from 24 to 72 months. With a shorter term loan, you will have a lower interest rate, but you will also have higher monthly payments. Several factors will determine your car loan rates, including credit score, loan term, location, car value and mileage. You can calculate the monthly payment that fits your budget before you go shopping.  Then, you will be better equipped to make an informed decision about the car you can afford.
A longer term car loan with a lower monthly payment often makes the most sense for your budget.  But, be aware that it will take longer for you to build equity in your car, or pay it off. This will affect you if you decide to trade in the car early, or if you get into an accident and need to purchase a new car.  Your car value may be less than the money you've already paid toward it. The other downside of longer term auto loans is that you will end up paying more because of the higher APR.
Does Getting Pre-approved for a car Loan Help?
Car dealers usually offer financing through their preferred lenders.  These lenders may be good for the dealers, but not necessarily good for you, the borrower.  However, the dealer's lenders are not your only option for an auto loan.  You can get pre-approved, directly through you own preferred lender or bank.  This helps you to negotiate the best car loan rates before you even get to the dealer's lot.  It can also save you a lot of money in the long run.
Salesmen like to focus on the monthly payment.  This is because then it is easier to forget about the actual price of the car. But, when you show up with a pre-approved auto loan in-hand, the only thing left to discuss is the price of the car. Some dealers might even try to beat the auto loan rate you got elsewhere.  This gives you an additional option to focus on the best offer.
Preapproval streamlines the negotiation process because you can sidestep the monthly payment game. If you negotiate based on a monthly payment, it's easy to lose sight of the real price of the car. But when you're preapproved, you become a "cash buyer." That means you can concentrate on negotiating only the price when shopping for a new car.  You are not distracted mentally juggling other numbers and scenarios.  Your only focus is to negotiate the best deal for the car.  However, remember to leave enough money to cover taxes and fees. For example, if you're approved for up to $30,000, look for a car in the $20-25,000 range.  This is because the final price will be higher after taxes and fees.  At a dealership the finance manager may try to beat the interest rate of your preapproved loan. If the interest rate is lower, and all other terms are the same, take the loan. But look at the contract carefully before signing. There is always a risk the finance manager could juggle the numbers in the dealership's favor.
How to get pre-qualified for an auto loan
The application process is similar, whether you're applying with an online lender, credit union or bank for your car loan rates.  The application process should take only about 20 minutes online. Just make sure you have the following information on-hand.  It helps lenders get a clear picture of your financial status and makes it easier for you to secure the best car loan rates.
Proof of income (W-2, pay stub, alimony documentation, etc)
Proof of assets (things like bank statements and financial account statements)
Employment verification
Driver's license and Social Security number
What to know before you apply for an auto loan
It is a good idea to at least be familiar with the prevailing interest rates, particularly for auto loans.  The interest rate you'll actually get depends on a combination of factors.  Things like your credit score and income, the length of the loan you choose and the cost of the vehicle. When you are just starting out, there is not much information to judge your credit history.  But, If you have a loan and make consistent, on-time payments, your credit score improves.  Later, you may be able to refinance your car loan to get a better rate and lower your monthly payment.
Here are other things you should know
Loan terms: Some lenders offer loans for up to 84 months. However, it's best to pay off a car loan quickly since cars depreciate rapidly. Owing more on the loan than the car is worth is called being "underwater" or "upside down," which is a risky financial situation. Also, the best interest rates are available for shorter loan terms. A good rule of thumb is 60 months for a new car and 36 months for a used car.
Soft vs. hard credit pull:  Some lenders do a "soft pull" of your credit to pre-qualify you for a loan. This doesn't damage your credit score, but it also doesn't guarantee you'll be approved for a loan or get the exact rate you're quoted. Other providers run a full credit check, which temporarily lowers your credit score by a few points. But again, your final rate could differ slightly from your preapproval quote. A hard pull will be required in all cases before a loan is finalized.
Rate shopping: Applying to several lenders helps you find the most competitive interest rate. However, it can lead to your being contacted by multiple lenders, or even dealers when you apply for a purchase loan, especially if you use a service that compares offers for you (such as myAutoloan).
Restrictions: Some lenders only work with a network of dealerships. Others won't lend money to buy cars from private sellers. Lenders may also exclude some makes of cars, certain models and types of vehicles, such as electric cars.
Funding: Once the loan is finalized, the lender will offer you a loan with a maximum amount at a stated interest rate. For purchase loans, lenders provide the money in a variety of ways: a no-obligation check, direct deposit to your bank account or a certificate to be used at a car dealership. For auto refinance loans, the lender typically pays off your old lender and you begin making payments to the new lender.  Source: nerdwallet.com
When you refinance your auto loan, you replace your current loan with a new one, usually from another lender. You can save money if you get a lower interest rate, and keep the length of your current loan the same.  You can save even more money if your refinance has a lower interest rate AND a shoter term than the remaining term on your current loan.   However, many borrowers refinance to get a lower monthly payment.  So, they take out a new loan, and extend the length of the payments.  Doing this, you may be able to lower your monthly payment, but you usually pay more in interest overall.  Some lenders let you to take cash out when you refinance.  But, in general, the new loan amount will be the balance left on your current loan. Since there often isn't much equity in a car loan, taking cash out could increase your risk of becoming upside-down.  That leaves you owing more than your car is worth – whch usually is not a good idea. So, it's really best not to take cash out unless you made a large down payment and suddenly need money for an emergency.
There are a number of situations when it makes sense to refinance your auto loan:
Your credit has improved. When you bought your car, maybe your credit history wasn't great. But now, if you've been making consistent, on-time payments, your credit has probably improved and you may qualify for a lower interest rate. This will reduce your monthly payment and save you money in interest over the life of the loan.
A dealer marked up your interest rate. When you got your existing loan, the car dealer might have charged you a higher interest rate than you could have qualified for elsewhere. This often happens to shoppers who didn't check their credit score or what rate they might qualify for before buying a car. There's a good chance you can undo the damage by refinancing and getting a new loan with a lower interest rate.
You can't keep up with payments. You may have bought too much car, or overestimated your ability to pay off your current auto loan. Or maybe you're suddenly facing unexpected financial challenges. By refinancing, you can extend the length of the loan, which will lower your payments. But don't take this step lightly. If you extend the term of the loan, you'll pay more in interest. However, it's better than damaging your credit by missing payments or facing repossession.
Interest rates drop. Interest rates fall for a variety of reasons: a changing economic climate, increased competition in the marketplace and regulatory changes. If rates are lower now than when you first got a car loan, refinancing could help you pay off your loan sooner or save you money on interest.
Guide to 0% APR Car Loan Rates 
It's possible to pay 0% interest on an auto loan, but that doesn't mean it's easy or the best option. Watch enough car commercials, and you're bound to come across an automaker advertising 0% interest on auto loans. Paying absolutely no interest on an auto loan sounds almost too good to be true. Believe it or not, it's possible to pay 0% interest on an auto loan.  Automakers tend to highlight 0% interest in their advertising because it grabs your attention.  However, not everyone can qualify for a loan with 0% APR. Those who do typically have excellent credit scores.  There also may be other hoops to jump through in order to qualify for the offer.  
How are 0% APR Car Loan Rates even Possible?
What incentive would a bank have to lend you money if it didn't receive interest on the loan?  A 0% APR loan is possible because banks aren't usually the ones doing the financing. These loans are typically financed by the automaker. The automaker still makes money on the sale of the car itself.  Under certain circumstances, it makes more sense to sell more cars than squeeze extra profit out of financing.  The automaker doesn't necessarily need to charge interest in order to come out ahead.
Boosting sales. A vehicle-specific 0% APR offer can help clear out old inventory of a particular vehicle, leaving more room on the showroom floor for next year's model.
Getting people in the door. Everyone who visits a dealership is a potential customer, regardless of whether they actually qualify for 0% interest. From an automaker's perspective, the more chances they have to make a sale, the better.
How to find 0% APR on car loan rates
Finding an offer for a 0% APR auto loan usually isn't difficult. They are a great promotion to get customers into the showroom, so they are usually advertised.  Still, you may need to do some digging to find the right deal for a particular make or model.  If you already know what vehicle you're looking to purchase, a quick Google search should show you whether the car you're considering has a 0% APR financing offer or not.
Another option is searching automakers' websites directly. This works best if you already have a short list of automakers you're interested in buying from. Many automakers have an incentives page that lists all the offers currently available.  You can usually browse these pages to find 0% financing offers.  It's worth mentioning that 0% financing is generally more common with new vehicles than used vehicles. Automakers tend to use this tactic when they want to move an overstocked inventory of new cars.
How to qualify for 0% APR car loan rates
Don't expect that qualifying for 0% APR on an auto loan is going to be easy. Usually, you will need almost perfect credit, and a long history of flawless loan payments.  "You'll usually need a stellar credit score and a long credit history, along with a clean credit report, in order to qualify for one of these loans," says David Bakke, personal finance expert at the personal finance website Money Crashers.
There's no one magic number that will qualify you for 0% financing.  Different lenders have their own standards for rating credit scores.  In general, 700 and higher (on a scale of 300 to 850) is usually considered good. But even that might not qualify you for 0% financing. Some reports suggest that you'll need scores as high as 720 or 750 to even be considered.
Automakers and dealerships don't usually publish the minimum credit scores required for 0% financing. Their goal with a 0% financing promotion is to get you into the showroom to look at cars. If you know you won't qualify, you may not bother to come to their showroom in the first place.