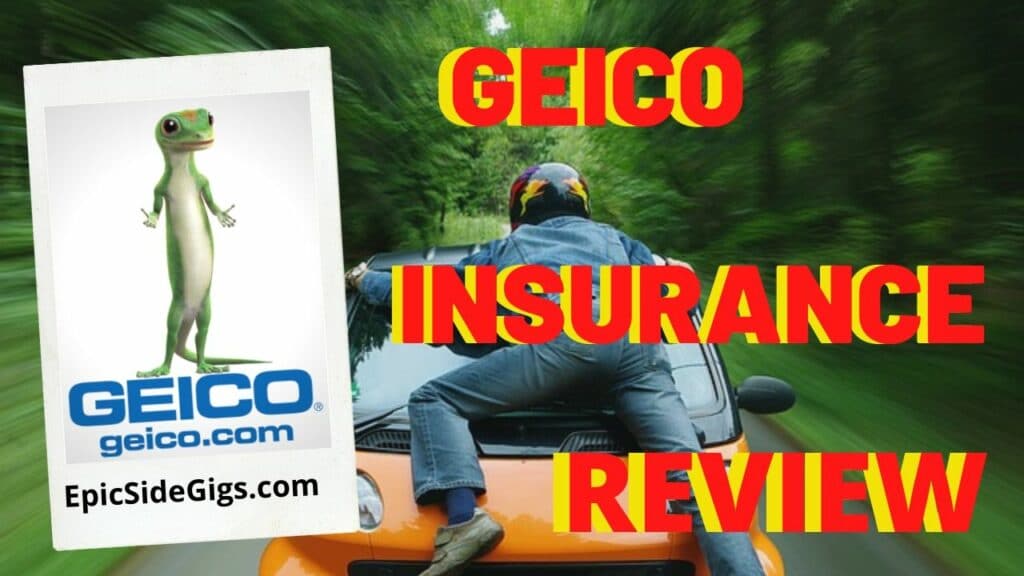 Geico Insurance: Reviews – Ratings – Discounts (a Complete Guide for 2020)
Geico is the nation's second-largest auto insurance company.  It is known primarily for low rates offered directly to consumers online and over the phone. It is also known for being a subsidiary of Birkshire Hathaway, headed by Warren Buffett.  If you're looking for affordable insurance, Geico is worth looking into.  But, you should be comfortable managing your own accounts online.  There is not going to be an insurance agent nearby to do it for you.  Most people know that Geico provides car insurance policies.  But, Geico offers much more than that.  They have coverage available to meet just about all of your insurance needs.  Coverage includes home, business, medical, accident, theft, loss and the list goes on.
In this review, we will go in depth to explore different car and home insurance policies available through Geico.  This includes the types of coverage you can expect and various discounts you might be eligible for. Geico is different from other insurance companies.  Let's take a look at why it might be the best option for you.
Geico Auto Insurance
Geico is known for providing low-cost car insurance with a wide range of coverage options. Almost anyone can get coverage regardless of driving record or credit history.  There are also policy options that cover just about any type of vehicle – motorcycle, RV, boat, you name it.  For those of you with a good driving record, there are multiple discounts that you may qualify for.
Types of insurance coverage
Motorcycle insurance
RV and ATV insurance
Rideshare and on-demand delivery drivers insurance
Collector and antique auto insurance
Boats and personal watercraft insurance
Mexico insurance
Commercial vehicle insurance
Insurance rate & premium discounts
Military and public service discount
Defensive driving discount
Good driver discount
Seat belt use discount
Multi-vehicle discount
Safety equipment discounts
Driver education discounts
Types of Geico Car Insurance Coverage
Collision – Collision insurance will pay for repairs for damage done to your car as the result of an accident. This includes coverage for the cost of repairs up to the cash value of your car after subtracting the cost of your deductible. Your car is totaled when its value is surpassed by the cost of repairs. Collision coverage is optional in all states but may be required if you have a lienholder.

Comprehensive – Comprehensive coverage protects your vehicle if it's damaged by events unrelated to driving, such as theft, vandalism, hitting an animal or bad weather. This type of coverage is typically optional but may be required if you have a lienholder.

Liability – Liability insurance covers you if you have an accident in which you are found to be a fault. It covers costs related to bodily injuries and property damage, including medical, funeral and legal expenses, loss of income, and pain and suffering. Liability coverage is mandatory in every state except New Hampshire.

Personal Injury – Personal injury insurance covers the cost of medical expenses associated with an accident for you and your passengers regardless of who's at fault. Medical and funeral expenses, lost wages and loss of essential services are among the things personal injury insurance covers. It's required in some states, optional in others and not even available in 28 states.

Uninsured and Underinsured Motorist – Uninsured and underinsured motorist insurance covers property damage and medical expenses when you have an accident in which the responsible party either doesn't have insurance or doesn't have enough insurance to cover the cost of the damage incurred. This type of insurance is optional in some states and required in others.  Source: cars.com
Geico Auto Insurance – Roadside Assistance & Extras
As a full-service provider, Geico offers some additional coverage options that set it apart from other providers.  Roadside assistance coverage is available for a small fee – Geico's website says you can get it for as little as $14 per year. Compared to AAA's cost of $50 to $100 per year, that's a pretty good deal. Here's what you get with Geico's roadside assistance:
Jump starts
Spare tire installation
Towing to a repair shop
Lockout services up to $100
Rental reimbursement is also available as an add-on. With this coverage, Geico will cover the costs of a rental car while your own car is being repaired after a covered claim. You get to set the limits on your policy. If you choose to receive $30 per day/$900 per claim, Geico will stop paying after you've used the rental car for 30 days.  Geico works with Enterprise Rent-A-Car for this service.  This means your insurance will pay Enterprise directly. If you use another rental company, you might have to pay upfront and then submit receipts for reimbursement.
Mechanical breakdown insurance (MBI) is Geico's extended warranty option for policyholders. Under an MBI plan, Geico will cover repairs to any mechanical part on your car. MBI excludes wear and tear, tune-ups, and maintenance items. Your car is only eligible if it is under 15 months old or has fewer than 15,000 miles. You can renew the policy for up to 7 years or 100,000 miles.  The first six-month MBI policy costs around $35, but it's unclear if renewals are the same price. With MBI, you'll also have to pay a $250 deductible any time you go into the shop.  This is higher than deductibles from many other third-party extended warranty companies.
What Geico Doesn't Cover
A standard Geico auto insurance policy won't cover regular maintenance of your vehicle, custom electronics, and items stolen from inside your car. You'll also have to purchase a specialized plan if you use your car for a small business, ridesharing, or if you have a collector car.
How To Get Geico Car Insurance 
Geico gives you three ways to get an insurance quote.  To get things started, you'll need to have your driver's license, car information, and current insurance policy available.
In Person – visit an office in person,
Phone – give the company a call,
Online – get a quote online.
You should also be aware of your driving history over recent years. If you neglect or forget to disclose an item on your driving record, your quoted rates can change.  Worst case, your car insurance can even be cancelled after you've made the initial purchase.  Once you find a quote that meets your needs, you can purchase your plan a couple of different ways.
Pay Upfront – To save the most money, you can pay for it in full before the effective policy date.
Installments – You can also pay in installments, but those can come with a $5 fee.
Autopay – Any payment fees are waived if you set up autopay.
Be sure you set up your new Geico policy to take effect before your current insurance policy expires.  You want to avoid driving uninsured or showing an insurance lapse on your record.
How to File a Geico Auto Insurance Claim
Geico lets drivers file claims through its mobile app, through its website, or by phone. The company recommends that you collect the following information after an accident:
Contact information of all other drivers, passengers, and witnesses
Location of the accident
Photos of the scene, damage, and license plates of each car involved
Insurance information from other drivers involved
The Geico mobile app lets you collect and store this type of information.  Then you can submit your claim once  all the information is ready. Depending on your policy and coverage, you can schedule damage inspection, secure a rental, or begin the repair from your app. Geico will send an adjuster to inspect the damage, whether your car was towed to a shop or driven back home. The adjuster will then be in contact with you to resolve the claim.
With Geico car insurance, you also have the option to tow or drive your car to an Auto Repair Xpress location. This is an authorized repair shop that is also connected to an Enterprise Rent-A-Car. When you arrive, a repair person will take your car while an Enterprise representative sets you up with a rental. It's a convenient option, and it saves time. Source: Motor1.com
Geico Auto Insurance Reviews
Geico Insurance Reviews – JD Power
According to J.D. Power's 2019 U.S Auto Claims Satisfaction Study, Geico ranks 6th out of 25 overall. The Geico claims department receives particular praise in the First Notice of Loss and Settlement categories.  Looking at customer satisfaction, Geico tied for third place on J.D. Power's 2019 Auto Claims Satisfaction Study. The study was based on thousands of car insurance customers who settled a claim within the previous six months. Geico scored 879 points on a scale of one to one-thousand.
Geico Insurance Reviews – Consumer Reports
According to Consumer Reports, overall, Geico has good customer service. The company has a Consumer Reports reader score of 78/100, and its claims and customer service are rated as very good. There are over 13,000 Geico car insurance reviews on its own website, which average 4.5 stars.
Geico Insurance Reviews – Better Business Bureau
The Better Business Bureau gives Geico an A+ rating, showing a high level of satisfaction among Geico's clients. The insurer responds to and addresses complaints in a timely manner and fulfills the BBB requirements for resolving issues.  Even though they have an A+ rating, the company is not perfect and has received some complaints too.   The best way to avoid negative experiences with Geico is to read the text of your policy thoroughly. Sure, almost everyone has an auto insurance policy. However, you could get caught off guard if you don't know what's inside.
Geico Insurance Reviews – AM Best
AM Best gives the Geico insurance company the best possible financial strength rating of A++ with a stable outlook. This means that Geico has a superior ability to meet its financial requirements, so you shouldn't have to worry about your claim being paid.
Geico Home and Renters Insurance
Geico insurance company's home and renters insurance covers all the basics you look for in a policy to protect your home.  There are also extras you can choose to include for additional coverage and peace of mind. Geico has a great feature for home insurance coverage.  The more options you add, the cheaper each option becomes.  Discounts kick in, so that you save more as you add coverage.
Geico home insurance coverage:
Property damage from fire, wind, hail, and water (under some policies)
Personal property such as furniture, clothing, appliances and dishes
Jewelry up to $2,000 of value
Personal liability
Medical bills
Additional expenses like hotel costs
Geico renters insurance coverage
Apartments and Condos
Loss due to fire, wind, water and smoke damage
Vandalism or theft
Visitor injuries
Accidental damages
Medical and legal bills if someone is injured on your property
Expenses if apartment/condo becomes uninhabitable
Furniture, electronics, appliances or clothing damage
Discounts
You can save time, effort and money by letting Geico handle more than just your car insurance.  Multi-policy discounts reduce premiums on all your policies.  Geico lets you combine all your policies under a single insurance carrier.  Clearly, it's easier to deal with just one company for all your insurance needs. Homeowners and renters can also take advantage of additional discounts when signing up for multi-policy Geico insurance:
Home security system discounts
Sprinkler and smoke alarm discounts
Multi–policy discounts
Military and federal employee discounts
Student discounts
Membership group discounts
Individualized Geico Insurance Quote
If you don't have time to sit down with an agent and review your every insurance need, consider applying online for an individualized Geico insurance quote. You can get a Geico quote, tailored to your circumstances, for Geico auto insurance, home insurance or Geico renters insurance in minutes. Geico's intuitive platform makes every step of the way, from requesting a quote to filing a claim, easy and quick.
Additional Policies Offered by Geico
Customers wanting to keep everything under one roof will be happy to know that Geico offers multi-policy discounts along with different types of insurance. Whether you want to insure your pet, home, or collectible automobile, it all starts with asking for your Geico insurance quote today.  Check out these additional policies offered by Geico:
Business insurance
Identity protection
Jewelry insurance
Life insurance
Overseas insurance
Pet insurance
Travel insurance
Umbrella insurance
Frequently asked questions
Why should I choose Geico?
Positive reviews and high customer satisfaction ratings among insurance companies are a couple of reasons to choose Geico insurance company. However, reasonable prices, online accessibility and a multitude of discounts are pretty attractive features as well.
How do I get a quote from Geico?
Getting a quote with Geico only takes a few minutes. You start the process by providing your ZIP code and answering a few questions.  The more accurate information you provide, the more accurate online Geico quote you get. You won't have to wait for an appointment.  You also won't work with an agent who will try to upsell policies.  Everything you need for a Geico quote is available entirely online.
How do I file a claim with Geico?
The Geico claims process can be completed online, over the phone, or through their mobile app. When reporting a Geico claim, you'll need to give them a brief description of what happened, the state where the accident occurred, and the date and time. It's also helpful to have your policy information and the policy information for any other involved parties.
How Much Does Geico Cost On Average? 
An exact or even average Geico car insurance cost depends on a number of factors. The rates are affected by things like your zip code, accident history, age, and the type of car that you drive. U.S. News & World Report came up with an average premium amount of $1,063.10. That would mean Geico policyholders pay about $89 per month, which is cheaper than most other popular insurance companies on average.  Unless you're in the military or have a family member with USAA, Geico offers pretty reasonably priced insurance. The best way to find out what you will actually pay is to fill out an online quote form.  The whole process takes only a few minutes.  The company uses the slogan  "Fifteen minutes could save you 15 percent or more". This idea of spending a little time to save a lot of money on auto insurance sums up Geico's business philisophy.
Can I balance my deductible and my premium? 
When you're looking for the best price on Geico insurance, you might notice that raising your deductible lowers your premium. While it's a good technique to lower your overall cost, make sure you don't raise your deductible over what you'd be able to pay. A $2,000 deductible may save you a lot in monthly payments, but it could also be prohibitively expensive to pay when you get into an accident.
Geico Insurance – Final Words
Geico insurance provides affordable rates, nationwide availability, and a simple claims process.  This makes Geico insurance a reliable option for most drivers, renters and homeowners.  Check it out for yourself.  Always compare quotes from multiple providers so you can determine your best coverage and rates. In addition to the insurance company you choose, There are other factors that affect cost.  Factors such as your age, vehicle make and model, and driving history can affect your premium.
Geico Insurance – Pros
GEICO is a financially stable insurance company that offers a full-line of insurance products. Almost anyone can get an insurance policy through GEICO regardless of credit history or driving record. For those with sterling driving records, good driving discounts are available to reduce your insurance premium.
The better your driving record, the cheaper your auto insurance is through GEICO. Customer service is a strength of GEICO. You can access customer service, claims, or make a payment 24/7 through their automated online service or through their toll-free telephone number. If you are a member of the military or a government employee, there are even more discount options available.
Geico Insurance – Cons
Even though you can easily access the GEICO website for quotes, customer service, payments or to make a change to your policy; some people still prefer the personal touch of a local insurance agent. If you are the type of customer who prefers the personal service you can receive from your local insurance agent, then GEICO's products are probably not for you. GEICO is a direct insurance writer, meaning they sell directly to the consumer without the use of insurance agents.