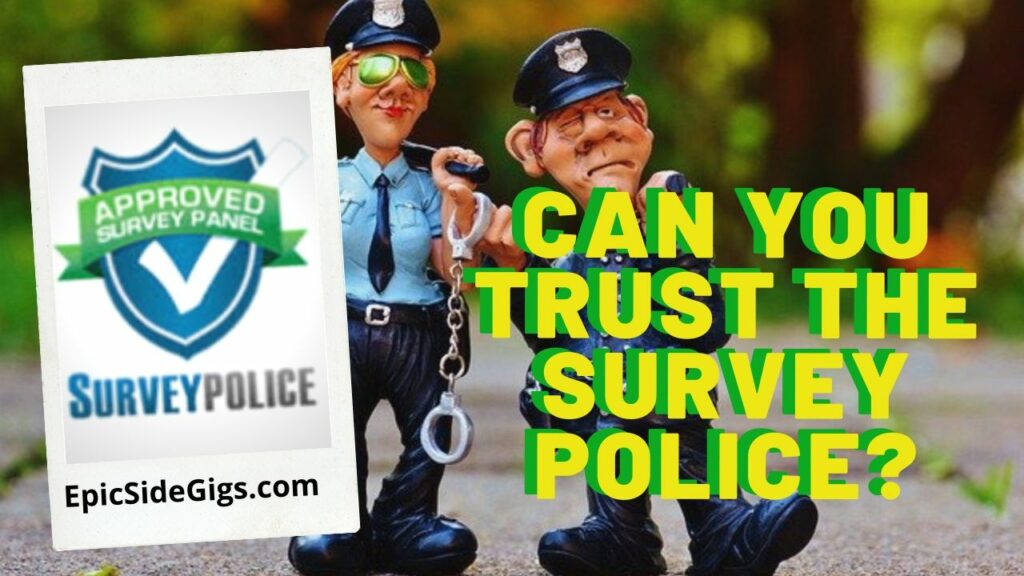 Survey Police Review 2020
Have you ever researched online surveys wondering which ones were scams and which were legit?  If you have, you have likely come across the Survey Police.  There are a massive amount of paid survey websites online, all trying to get you to join their platform. Some of these websites can be trusted, and others are just not worth your time. With so many to choose from, it would be great to have a safe place to check them all out.  Especially when you want data on a particular website.  That's where the Survey Police are supposed to come in…
What Are Paid Surveys And How Do They Work? 
Online surveys are one of the fastest growing market research tools. Companies like them because they're quick, easy and cheap to do.  In simplest terms, paid surveys are questionnaires that a participant or member takes online. Created as web forms, these surveys usually come with a small cash reward or payment.  This is to encourage the target audience to complete as many surveys as they can.  The entire idea of paid surveys supports the process of market research. It's the research step that takes place before manufacturing or marketing a product.  Market research allows the company to first determine whether consumers want to buy the product. As the companies obtain valuable market research results, they pay the consumer for taking the survey and giving genuine responses. So, the more surveys one completes, the more money they can potentially earn.
Source:  southfloridareporter.com
Paid Surveys: Can You Really Make Money From Them?
Typically, it's easy enough to get paid for taking online surveys. Although it might take some time, the steps involved try to be simple and convenient. If you want to try out paid surveys, first you have to sign up with a paid survey site and complete a member profile. Typically, they send you an e-mail any time they have a survey that matches your profile. An e-mail invitation should include an estimate of how long the survey will take to complete.  It should also specify how you'll be compensated for your time (if you qualify), and provide a link to the survey. Expect to spend 15-20 minutes per survey on average.
How Much Do Surveys Pay?
Payment for surveys can vary widely from site to site and from survey to survey. Expect to be compensated one of three ways: with cash (anywhere from $1 to $50 per survey), with points that can be redeemed for prizes, or with gift cards. In some instances, you may also be rewarded with new products to try.
How Do You Find Reliable Survey Sites?
When using survey sites as a source of online income, it is best to do your research first.  A smart surveyor can maximize income by using only the best survey sites and avoiding potential scams.  You should find and research survey sites before trying to sign up to making money online with them. With many options to choose from, it's essential to be cautious when selecting the right sites. Although, it is a good idea to research survey panels first, where do you start?  With so many scams on the internet it is extremely difficult to know who to trust.  What can you do to insure you will be working with a credible site?
SurveyPolice was established to fill that exact need.  SurveyPolice.com reviews most of the survey panels that exist on the internet. Their goal is to help you avoid dodgy survey sites.  Thay can also help you find new panels to try if you are looking to expand your opportunities.  You can even searching through the  survey categories available to find one with features you want, like PayPal payments.  But, can you rely on the information provided in the Survey Police reviews?
What is Survey Police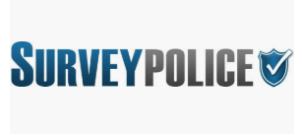 SurveyPolice has existed since 2005, so it has been around a really long time, by internet standards. SurveyPolice.com is NOT affiliated with any law enforcement agency, it is just a very clever brand name.  They do not carry any official police authority.  Actually, it not really a survey site or panel itself.  It is a survey review site. It appears to be totally legitimate.   And, it tries to only recommend legit survey sites.
You can get access to most of the information they provide without joining, however, it is free to join.  And by joining, you are able to leave your own comments and reviews.  There is quite a bit of information and it can be very useful if you are interested in paid surveys. But, like anything you find on the internet, use the information as a starting point only.  Do not rely on everything you read as the absolute truth.  You will likely be disappointed if you do.  Let's go over what Survey Police has to offer.
Source:  paidfromsurveys.com
How Does Survey Police Work?
Survey Police's goal is to give you real and honest reviews and information about the online surveys.  Basically, they get their members to leave candid reviews about the different survey panels they have personally tried.  Survey Police will help you get started if you're confused about which surveys platforms are worth your time.  They have many good features to choose from, including:
Survey Police Survey Site and Panel Overviews
Survey Police is, first of all, a survey review site. While surveys can be a great way to make some extra money, there needs to be easy access to good information.  Especially when a user encounters a dodgy company or area to watch out for.  Survey Police offers lists and reviews of the majority of survey panels on the internet today.  A great feature about the user reviews is the broad range they cover.  You can find a review of more or less ANY survey site that exists.
The primary feature for which people use SurveyPolice is the survey site and panel overviews.  This is likely what you come across when you Google a survey panel and click on a SurveyPolice result.  These pages give basic information about the survey sites that are listed on its website.   Often, ycan also find out information like:
Minimum cashout balance
Types of survey tasks
Reward options
Eligible countries
Member referral programs
Mobile app availability
Point value, if applicable
Survey payment amounts
Contact information
User ratings
Similar panel links
The Survey Police Blog & News
Survey Police has a blog section where they post news, tips, and tricks to earn more.  They feature the top rated surveys for each country.  If you're at all serious about making money with surveys, this is a good place to come for information.
Survey Police Membership
Survey Police is not an actual survey work site.  It is more of a connection where users and actual survey panels find each other.  The information is free.  Also, you can access most of the info on the site without becoming a member. But, if you want to leave a review yourself, you have to sign up and become a member.  Overall, there is no other compelling reason to sign up as a member, unless you want to leave reviews. If you just want to look at the info, you can just do it without becoming a member.
Survey Tracker
Membership to Survey Police also gives you access to a survey tracker.  This is basically just a list where you keep track of the survey panels for which you are a member.  It lets you record whenever you have taken a survey and how much you have made. This is something you have to do manually.  In theory, it sounds like a useful tool and a good idea.  Of course a person will want to keep track of this kind of information as well as outstanding payments.  It can help to keep you motivated by watching how much you've earned and insure you get paid what is owed.
Personally, I do not see the need to record personal financial information into Survey Police's database. An excel sheet instead on your personal computer serves the same function.  Better still, an excel spreadsheet keeps your information private.  Also, you will always have access to it on your home computer any time you want.  This is whether or not the Survey Police server is available or you choose to cancel your membership.
Search for Surveys by Country
How much you earn from a survey really depends on the country you live in.  There are some surveys that are only good for certain countries.  Survey Police ​have a useful feature that automatically pulls out for the best surveys for any country you select.
Survey Police Forum
Registered members as well as non-members can post in the site's forums.  This is a section with several helpful categories that cover things like technical issues with panels, information about survey apps, and even tips for making money in other ways online. You can post new questions or topics yourself, read through the forums, and respond to other comments and questions in the forums.  Posts over a year old are archived into their own section or category.  This keeps everything clean and updated while still giving you access to older information.
Survey Police – Their Top Rated Online Survey Panels 
If you're new to online surveys or are looking for legitimate paid surveys, check out the survey panels listed below to get started. All panels are free to join, have good reputations, and were selected as top picks.  Selection was based on user experiences, rewards offered, interface, and customer service.
OneOpinion – Consistent, good customer service.  Rewards offered: PayPal payments, Visa prepaid cards.
Pinecone Research – Fair survey site, reliable, good reputation. 

Rewards offered:

Cash paid via check and via PayPal, gift cards options, more.
Tellwut – Fun giveaways, always prioritizing member satisfaction. 

Rewards offered:

Gift cards and merchandise.
PaidViewpoint –  Superb customer service, attractive website design, open internationally.   Rewards offered: Cash paid via PayPal, Amazon gift cards, Walmart gift cards.
YouGov – Transparency about points issuance and rewards processing.  Rewards offered: PayPal payments (in some regions), pre-paid Visa cards, gift cards.
How Does Survey Police Make Money?
Survey Police makes money when you sign up to the surveys they recommend using their referral links.  This is affiliate marketing and it's the same online business model many blogs use to make money.  Obviously, the more surveys you join under their link the more money they will make.  Many sites similar to Survey Police try to get you to sign up for surveys under their links regardless of legitimacy.  SurveyPolice,​ on the other hand, claims to only link you to legitimate surveys.
Survey Police Affiliate Disclosure
On its webpage, SurveyPolice discloses that most of the links on their website that point to a third party are affiliate links.  That means that Survey Police receive affiliate commissions for the referrals they send to survey platforms with whom thay are affiliated.  How objective do you think they are with affiliate survey platforms that pay them high commissions?  In fact, a number of complaints against Survey Police is due to this conflict of interest – promoting survey sites that pay them to do so.
"Most of the links on SurveyPolice that point to third-party websites, are affiliate links. This means that we earn a referral fee if you decide to join a survey panel, GPT program, etc. through a link posted on our website.  Affiliate links on SurveyPolice are typically posted in the form of a "Join Now" button, an image of your country flag with text, and banner links. Other types of affiliate links may also be posted on our website.  By clicking and using our affiliate links, you are helping support SurveyPolice which keeps this website free to use. Our massive online survey panel rankings, Survey Panel Finder, super-friendly forum, surveys blog, etc. are all made possible by your generous support by using our affiliate links.  If you are interested in posting affiliate links on your own website, check out our affiliate program page."

Source: Survey Police Disclosure
So, is Survey Police Trustworthy?
As mentioned already, the main purpose of Survey Police is to review survey sites.  They do this to give people information about these opportunities.  But, they also do it to get people to sign up under their affiliate links.  The good news is that the reviews are made by users that register to the site. This should, in theory, make the reviews unbiased.  Also, you get reviews from many different people.  However, this has some disadvantages.  Reviews  can easily be manipulated or give a distorted picture of certain sites.  So what do I mean when I say reviews can be manipulated or end up actually giving you the wrong impression on review sites?
This has nothing particularly to do with Survey Police.  It is something that goes for all review sites with user reviews.  The idea is that the reviews should be unbiased.  However, companies realize how much reviews influence people while deciding what to join or buy. As a result, organizations can influence their ranking.  They do this simply by hiring people to submit only reviews that are very positive.  A company will do this to try to push up their ratings with a lot of VERY positive reviews. This is one risk of user reviews.
Another flaw is that often people only write reviews when they are upset. Think about it.  When are you most likely to leave a review?  When everything is ok?  Or, when you have a bad experience and want to let the world know how horribly you were treated?  Of course, you are probably more likely to look for a place to share a bad experience.  Studies show reviewers are more inclined to find a way to share a bad experience over just being satisfied.
Can Reviews be Manipulated?
Fake reviews are everywhere online and they have probably influenced some of the purchases you have made. Fake reviews can be positive or negative, and they're obviously unethical and harmful. But they're the symptom of a larger problem with e-commerce and online platforms.
"According to a BrightLocal study, 84% of people trust online reviews as much as they trust friends. That's an incredible statistic because it suggests that a poorly written 50-word review by a stranger can hold as much clout as a positive recommendation from someone that you trust. Essentially, the exposure and clout that businesses get from good reviews create a powerful e-commerce formula.  Businesses that have good reviews get a lot of free exposure. On websites like Amazon and Yelp, products and pages that have good reviews show up at the top of search results. They're suggested to users based on interests, and they're even sent out in email campaigns or marked with labels like Amazon's Choice."

Source:  howtogeek.com
Reviews About Survey Police – From Users
"They don't allow honesty so good luck with non accurate information."  Two Star **
You will discover that after a while of fully honestly reviewing sites that they will not allow your honesty.  And, will literally not put up your reviews if they are not to their liking.  If you contact them about it their excuse is "You put up too many negative reviews."  Wow really?  I can't be honest and say most review sites  are bad to awful and don't pay people enough for our information.  I wont give a site over 3 stars if they are drama.  For example, high redemption/cash out thresh hold,should be as low as $5 and not any higher then $20.
Also, all the info that sites get and then the screen says "Sorry you dont qualify for this survey".  This is after 15 to 45 minutes of them pumping info out of us for free. If a site does not use paypal and has few rewards or even worse only give out checks.  I mean, seriously?  Sites really need to stop using checks to pay people for their surveys.  No one uses checks any more.  No one has the ability to cash them unless they have a traditional checking account.  And, no one does in our modern times…..obviously.  If A site has the audacity to put the redemption"paypal fee".  Which does not exist, so sites are lying to people.  Unless, people don't have patience then I think there is a immediate transfer fee onto the customer.  Yes, I'm docking the site for that.
The site is good for finding new survey sites.  But, this is not a site to find out if a site is any good or not.  Because, people cannot get accurate information.  Because, the site does not let people be honest about their experiences with survey sites.
"Suspended My Account" 1 Star *
Survey Police suspended my account with no reason given. Any positive ratings on its site is questionable, such as TellWut and Opini, because Survey Police has a friendly relationship with TellWut and Opini and allows those companies employees to write positive reviews on its site.
Not Available in the US    1 Star *
Survey police was a good website where customers can read reviews of the latest survey websites. However, Survey Police no longer has a site in America. It keeps saying, "Suvey police is unavailable in your area." I can't post or read reviews.
Survey Scams to Watch 
You really need to exercise caution when you sign up to take surveys in the belief you'll get paid.  Be extra careful when responding to a spam email message or online ad.  At their most basic, home online survey scams attempt to get your money or your personal information.  Beware of any offer that tries to:
Get you to pay money for nothing. It'll be a payment for a useless training kit or a fee for membership of a club or organization that promises to pass details to you of upcoming paid surveys. In the latter case, there may indeed be a list of legitimate surveys but you can find these on the Internet for free.
Get you to divulge your personal details  These details include your name, email address, income and education, which will then go on to a spamming list. You won't get any survey forms but you will be bombarded by offers.  These offers come from either from the company you first contacted or by other marketing companies to which they sold your details.  The trick of collecting names and email addresses to pass on to others is known as roping.
Using your personal details for identity theft. This information is usually acquired in either of the above survey scams.  Survey scam artists can draw up a fairly comprehensive picture of you from the details you provide.  Especially if you've also given credit card or bank details to pay them for their service.
Don't pay and Don't Give Personal Information Upfront
You can get paid for legitimate surveys without paying membership fees.  Nor do you need training kits, or empty promises that your name will be passed on to other survey companies' lists.  The only paying exception might be if you choose to buy a list of firms that really do pay for surveys, on the principle that buying the list will save you time.
Be cautious of surveys asking what you own or might be considering buying.  Be cautious giving your name, address and other details of any sort unless you are familiar with the company. The risk of letting others know your buying intentions at the very least can open the floodgates for junk mail offers. Also, check out the credentials of the individual or organization you're dealing with first.  The best way to protect yourself is to avoid giving any information about yourself until you're 100% sure of who you're dealing with.
Source: scambusters.org
How to Avoid Survey Scams
While there are a lot of reputable survey sites on the web, there are also a lot of not-so-reputable sites. Avoid any survey site that:
Requires you to pay a membership fee
Guarantees you a set income
Does not make clear how you'll be rewarded for your participation
Asks for too much personal information – you shouldn't have to give out your Social Security Number, credit card number or your bank account information
Does not post a privacy policy
Sells member information to third parties
Source:  thebalanceeveryday.com
Is SurveyPolice Legit or a Scam?
SurveyPolice appears to be a legitimate resource to help you find out more about survey sites and what they offer.  They have been providing this service for over 15 years.  This is actually a really long time in terms of the internet.    Users continue to visit the site to research the survey panels they're considering joining.  The information they find is not perfect, by any means.  Users complain that there may be conflict of interest as a paid affiliate.  Also, there is negative feedback about superficial information and possible review manipulation.
Regardless, Survey Police remains a solid resource and a good first stop for information.  You'll still need to do your due diligence.  Consider all reviews you read as a guide, but not necessarily a sworn testimony of truth.